Most cultivation methods for magic mushrooms involve jars, if not for the entire growth process, then at least for one stage of it. Why? What's so special about jars? And what jars are the best for growing mushrooms?
Read on.
Why You Want Mushroom Jars
The most popular method for cultivating Psilocybe cubensis, PF Tek, calls for jars. PF Tek works with all (or at least almost all) P. cubensis strains and many of the other psilocybin-containing species as well. Most other teks are variations on PF, such as Popcorn Tek, which simply uses popcorn instead of brown rice flour. So most people use jars because PF (an actual person) did.
But PF had good reason.
Once a mycelium gets established, it's fairly good at protecting its own turf, keeping bacteria, molds, and other mushrooms out of its substrate. But there is a vulnerable period where unwanted spores can contaminate and take over the substrate instead. Essentially, these are weeds, but unlike weeds in a garden of plants, the weeds in a mushroom grow can't usually be pulled out. That sample of substrate must simply be discarded. That can get expensive.
So for the stage where the mycelium first establishes itself, you need sterilized substrate in sterilized containers that you can keep closed. You also need multiple small containers rather than one big one because that way if one container gets contaminated you don't lose the whole batch. It's also helpful if the containers are see-through so that you can spot any contamination that does appear, and so you know when the substrate has been fully colonized. If the containers are reusable, that's even better.
Glass canning jars, or something similar, pretty much check all the boxes.
It's possible to grow mushrooms without glass jars, and in some cases there are trade-offs that make some other option the better choice, but in most cases, it's going to be jars. It's the one part of mushroom cultivation that most teks have in common.
IN A HURRY? HERE'S OUR TOP PICKS...
| | | Header |
| --- | --- | --- |
| | Ultimate ½ Pint Substrate Jars (6-Pack) with special substrate formulation. | |
| | BRF Jars Mushroom Substrate (12 Pack) | |
| | BRF Jars Mushroom Substrate Organic 12 Jars | |
Things to Consider
A good mushroom jar should be clear glass with a wide mouth and a tightly-fitting lid able to form a seal. The shape of the mouth is important because if the mouth is narrower than the jar is then you won't be able to birth the cakes.
Size can vary. Growers can use anything from half-pint to quart-sized jars. The bigger the jar, the bigger the resulting cake, and the bigger your harvest per jar will be—though colonization time may be slower. That being said, it's better to have many small jars than just a few big ones, because of the risk of contamination. That is, if you have two quart-jars and one gets contaminated, you've lost half your crop, but if you divide the same amount of substrate up into eight half-pint jars, losing one jar to contamination is not as big a problem.
The other variable is how much work you want to do yourself. Plain glass canning jars are low-cost and easy to buy, but do require some modification—and of course they must be filled with substrate and sterilized. If you're the type who likes a lot of hands-on control, this is going to be your best bet. Or, you can pay some extra money to buy jars that are ready to go.
Of course, pre-filled jars are only pre-filled once—after that, you have to either buy a whole new set of jars, or you have to mix up your own substrate.
Our Top Mushroom Jars
Here are a few options for your mushroom-growing adventures. Note that although we've numbered them one through five, this isn't exactly an apples-to-apples comparison. We've got three sets of pre-filled mushroom jars, two sets of lids-only, and one set of plain glass canning jars. It comes down to what kind of cultivation project you want. All are well-reviewed.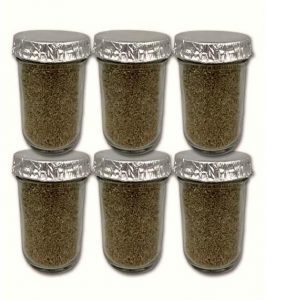 Midwest Grow Kits are a household name when it comes to growing equipment and anything to do with growing mushrooms. They've been in business since 2003, and are probably one of the longest running mushroom grow companies out there. They have an impeccable record and provide great customer service.
Their ultimate 1/2 Pint Substrate Jars come with a blend of natural organic brown rice flour (BRF), vermiculite, worm castings and bee pollen. They are pre-sterilized and ready to go. This blend of theirs is the product of 15 years of experience. They advertise fast colonization times, large mushrooms and claim no other jar will perform as these do. Each jar is made the morning your kit ships to ensure the jars are as fresh as possible.=
Contents:
6 Ball 100% Glass Canning jars! No plastic substitutes, pre-sterilized, and filled with Midwest Grow Kits special substrate blend.
Pros:
15 years of expertise
Packed the morning of shipment to ensure freshness
Fast colonization times.
Cons: 
None that I know of, yet.
I've personally used these jars and haven't found another one that compares.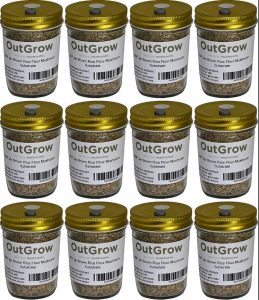 These jars are pre-filled with brown rice flour and pre-sterilized. The only thing you have to do to start growing mushrooms is inoculate them. From there, you just follow the steps for the standard PF Tek. Essentially, these jars are a magic mushroom-growing kit—you get 12 half-pint sized glass jars, complete with lids that have an injection port and a filtered opening for air exchange. That's enough for a good-sized harvest.
The advantage of using this type of kit is that somebody else has already done most of the hard work. Although the risk of contamination is not zero, it is quite low. For beginners, the low risk of contamination or other problems is worth the high price. More experienced growers will likely prefer to fill and sterilize their own jars. One option is to buy this set to get started, and then keep the jars for use in later, home-made, batches.
Contents:
12 8-ounce glass jars with screw-top lids (with ports and filtered vents), pre-filled with substrate and pre-sterilized
Pros:
convenience
professional quality
Cons:
You can buy the OutGrow BRF Jars here.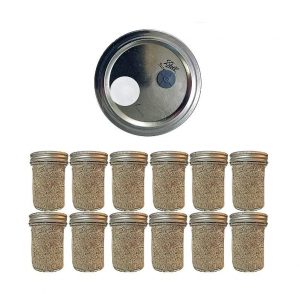 These jars from Shroomability are essentially the same as those from Out-Grow already described, except the price is substantially better. They do have poorer reviews, but closer inspection reveals there are just fewer reviews—only one is actually bad, and that customer's experience appears to have been atypical. I've used them, they are a decent third option.
Although the price for this set of filled jars is much lower than that of the other brand, it's worth noting it's still higher than filling your own jars would be.
Contents:
12 8-ounce glass jars with lids (with ports and filtered vents), pre-filled with substrate and pre-sterilized
Pros:
convenience
professional quality
Cons:
high price (just not quite as high as the competition)
You can buy the Shroomability BRF Jars here.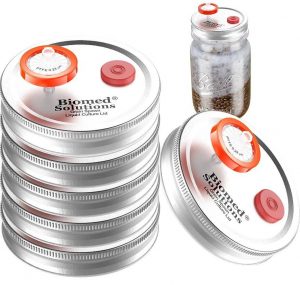 These aren't jars, just jar lids. This means you have to provide your own jars, your own substrate, and your own sterilization. What you do not have to do is modify lids to install injection ports or a filtered air opening, as that has already been done. The lids are reusable, but the filters need to be replaced. Some users report issues with rust as well. The only real downside is that not all jars take the same kind of lid, so when you buy lids separately, you have to make sure you have jars that will match.
These lids are a good option if you bought a set of mushroom jars and lost some of the lids.
Contents:
6 metal lids with ports (one each) and filtered vents
Pros:
convenience
professional quality
replaces lost lids
Cons:
You can buy the Biomed Solutions Jar Lids here.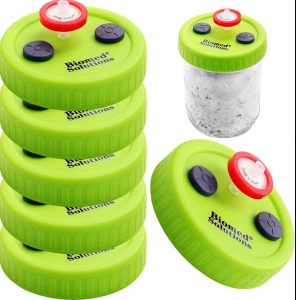 These lids are very similar to the previous offering from the same brand—except these are plastic. They ARE able to withstand the heat of a pressure-cooker, and there is clearly no possibility of rust. The second injection port is to increase the life of the lid—although injection ports are self-sealing, eventually all the needle-sticks will degrade them. This way, you get twice as many sticks before that happens.
Contents:
6 plastic lids with ports (two each) and filtered vents
Pros:
convenience
professional quality
replaces lost lids
Cons:
You can buy the Biomed Solutions Plastic Jar Lids here.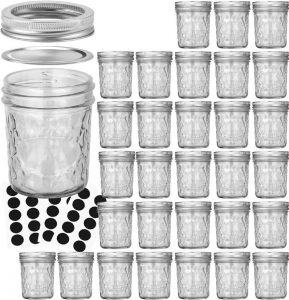 Here we have standard, empty, six-ounce glass canning jars. To grow mushrooms in these, you'll not only have to mix and hydrate your own substrate, you''ll also have to modify the lids by making an injection port and a filtered opening for gas exchange. Fortunately, neither is difficult to do, and the price is excellent.
Contains:
30 6-ounce glass canning jars
30 lids and rings
30 stickers for use as write-on labels
Pros:
Cons:
less convenient
more opportunity for user error