The false saffron milk-cap, Lactarius deterrimus Gröger.
Synonyms
Lactarius deliciosus var. deterrimus (Gröger) Hesler & A.H. Sm.
  North American Species of Lactarius (Ann Arbor): 94 (1979)
Classification
Phylum Basidiomycota
Class Basidiomycetes
Order Russulales
Family Russulaceae
Genus Lactarius
Common names
False saffron milk-cap
Orange-latex milky
Spruce saffron lactarius
Gran-Mælkehat (Danish)
Peenrode melkzwam (Dutch)
Kuuseriisikas (Estonian)
Kuusenleppärousku (Finnish)
Bitterer Milchling (German)
Egļu rudmiese (Latvian)
Tallblodriska (Swedish)
Çam melkisi/Çintar (Turkish)
Description
Cap: 8-13 cm diameter, convex with involute margin, and central depression; orange-buff color, sometimes mixed with green or with green stains; surface glabrous, smooth, viscid when moist, subzonate to azonate; flesh whitish to pale cinnamon, staining vinaceous red then green from the latex.
Latex: bright orange initially (carrot-colored), slowly darkening (minutes) and eventually turning green.
Gills: adnate to decurrent, close, many tiers of lamellulae present, narrow to moderately broad, orange with reddish brown or green stains.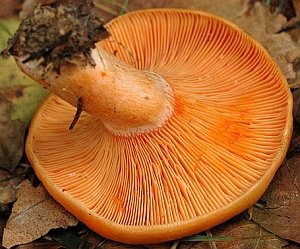 Stem: 2.5-7 cm long, 1.5-2.5 cm thick, equal to tapered downward, becoming hollow in age (although Jordan (2004), p.302 claims "never hollow"); concolorous with cap and with similar staining; surface smooth to slightly pitted.
Spore print: cream-buff.
Spores: broadly ellipsoid, surface with warts and ridges and with amyloid reticulations that are 0.5-0.8 µm high, hyaline, 7.5-9 x 6-7 µm.
Odor: mild
Taste: peppery in young specimens.
Edibility: usually listed as edible. However, this species has been shown to contain lactaroviolin II and deterrol, compounds which have shown some mutagenicity in the Ames Salmonella test (Anke et al., 1989).
Habitat: solitary to scattered on the ground, usually under spruce but sometimes pine; common; summer-fall.
(Description adapted from Hesler and Smith, 1979, p.94-95.)
This mycorrhizal mushroom, common in Europe, is similar in habitat and appearance to Lactarius deliciosus, and was formerly thought be a variety of it.

Bioactive compounds
The azulene compound 1-formyl-4-methyl-7-isopropyl azulene (11,12-dihydrolactaroviolin, show below) has been found in this species (Koul et al., 1985).

The sesquiterpenoid contents of L. deterrimus fruit bodies have been investigated. Apparently, these guaiane sesquiterpenes, undergo rapid enzymatic alterations upon tissue injury, making them difficult to quantitate. Uninjured fruit bodies contain a single sesquiterpene fatty acid ester that is quickly converted to five free sesquiterpenes (common names include lactaroviolin, delicial, lactaroazulene, deterrol). These post-injury enzymatic transformations explain the orange to green color transition seen in the latex (Bergendorff and Sterner, 1987).
A lectin (named LDetL, dimer, MW=37,000 kDa), specific for β-D-galactosyl(1→3)-D-N-acetyl galactosamine residues was isolated from fruit bodies of L. deterrimus. This lectin, not specific to any erythrocyte phenotype in the ABO system, is postulated to be involved in recognition and specificity during the early stages of mycorrhizae formation (Giollant et al., 1993).
A thin-layer chromatographic technique has been reported for the identification and quantification of 5-methylcytosine, tryptamine, melatonin, tryptophan, indoleacetic acid, and indole in the fruiting bodies of  L. deterrimus (Muszynska, 2007).

Medicinal properties
Antibacterial activity
Using agar disk diffusion assays, the methanolic extract from L. deterrimus has been investigated for antimicrobial activity against Escherichia coli, Micrococcus luteus, Stapylococcus aureus, Salmonella thyphi, Klebsiella pneumoniae, Pseudomonas aeruginosa, Corynebacterium xerosis, Bacillus cereus, Bacillus megaterium, Mycobacterium smegmatis, Candida albicans and Saccharomyces cerevisiae. It was shown that 500 µg of crude extract from the false saffron milk-cap had inhibition comparable to 10 µg of penicillin against E. coli, P. vulgaris and M. smegmatis, as well as weak inhibition against S. aureus, B. cereus and B. megaterium (Dulger et al., 2002).
Antioxidant activity
The antioxidant activity (measured by the β-carotene/linoleic acid method) of the L. deterrimus methanolic extract at 20 mg/ml was as strong as the positive controls BHT and α-tocopherol. Although the radical scavenging activity (measured by the 1,1-diphenyl-2-picrylhydrazyl assay) was relatively low, the reducing power at 4 mg/ml was strong, as was the chelating effect on ferrous ions. This paper also investigated the quantitative yields of total phenolic and flavonoid compounds (Sarikurkcu et al., 2008)

Links
BioPix has pictures
References
Anke H, Bergendorff O, Sterner O.
Assay of the biological activities of guaiane sesquiterpenoids isolated from the fruit bodies of edible Lactarius species.
F Chem Toxicol. 1989 27:393-7.
Bergendorff O, Sterner O.
The sesquiterpenes of Lactarius deliciosus and Lactarius deterrimus.
Phytochem. 1988 27(1):97-100.
Dulger B, Yilmaz F, Gucin F.
Antimicrobial activity of some Lactarius species
Pharm Biol. 2002  40(4):304-6.
Giollant M, Guillot J, Damez M, Dusser M, Didier P, Didier E.
Characterization of a Lectin from Lactarius deterrimus (Research on the Possible Involvement of the Fungal Lectin in Recognition between Mushroom and Spruce during the Early Stages of Mycorrhizae Formation).
Plant Physiol. 1993 101(2):513-522.
Pubmed abstract
PDF online
Hesler LR, Smith AH. (1979).
North American species of Lactarius.
Ann Arbor: University of Michigan Press. 841 pp.
Online version
Jordan M. (2004).
The Encyclopedia Of Fungi Of Britain and Europe.
Frances Lincoln Ltd. 384 pp.
Koul SK, Taneja SC, Ibraham SP, Dhar KL, Atal CK.
A C-formylated azulene from Lactarius deterrimus.
Phytochem. 1985 24(1):181-2.
Leuthy CS. (1997).
Key to species of Lactarius in the Pacific Northwest.
From the Pacific Northwest Key Council Web site
Muszynska B, Maslanka A, Sulkowska-Ziaja K, Krzek J.
TLC-UV analysis of indole compounds and other nitrogen-containing bases in the fruiting bodies of Lactarius deterrimus.
J Planar Chromat. 2007 20(1):57-60.
Sarikurkcu C, Tepe B, Yamac M.
Evaluation of the antioxidant activity of four edible mushrooms from the Central Anatolia, Eskisehir – Turkey: Lactarius deterrimus, Suillus collitinus, Boletus edulis, Xerocomus chrysenteron.
Bioresour Technol. 2008 99(14):6651-5.
Pubmed abstract
Wang H, Ng TB, Ooi VEC.
Lectins from mushrooms.
Mycol Res. 1998 102(8):897-906.