The Japanese mushroom Lactarius flavidulus S. Imai.
Common name
Ki hatsu take (Japanese)
Description
As far as I can determine, this species has only been reported from Japan, and descriptive information is sketchy. Nagasawa (1998) suggests that a more correct name is L. tottoriensis.
Spores: 8-9.2 x 6-7 µm (see a photo here)
Taste: bitter.
Edibility: edible.

Bioactive compounds
Three novel geranylphenols, flavidulols A, B and C (structures shown below), were isolated from Lactarius flavidulus while screening for new inhibitors of proliferation of mouse lymphocytes (Takahashi et al., 1988). The original structures determined for these compounds were later revised based on NMR analysis (Takahashi et al., 1993). This paper also reported the isolation of flavidulol D, also shown below.
The IC50 values for the concanavalin A-induced proliferation of mouse lymphocytes were determined to be 8.9 µg/ml, 4.9 µg/ml and 36.6 µg/ml, respectively, while against lipopolysaccharide-stimulated proliferation, the corresponding IC50 values were 6.7, 3.9 and 28.3 μg/ml (Fujimoto et al., 1993)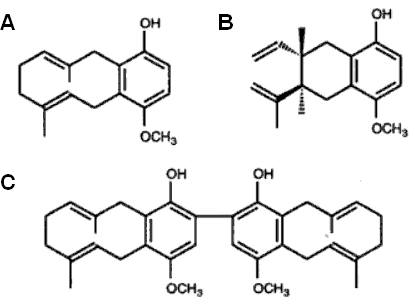 Medicinal properties
Antimicrobial and antifungal activity
Using the serial two-fold dilution method, flavidulol A demonstrated antimicrobial activity against various pathogenic organisms (minimum inhibitory concentrations in µg/ml given in parentheses): Staphylococcus aureus (6.2), Bacillus subtilis (6.2), Escherichia coli (>100), Candida albicans (25), Trichophyton rubrum (6.2), and T. mentagrophytes (6.2) (Takahashi et al., 1988). The latter two organisms are fungi responsible for various skin ailments such as athletes foot, jock itch, and ringworm.
Antitumor effects
Polysaccharides extracted from the mycelial culture of L. flavidulus and administered intraperitoneally into white mice at a dosage of 300 mg/kg inhibited the growth of Sarcoma 180 and Ehrlich solid cancers by 100% (Ohtsuka et al., 1973).
References
Fujimoto H, Nakayama Y, Yamazaki M.
Identification of immunosuppressive components of a mushroom, Lactarius flavidulus.
Chem Pharm Bull. 1993 41(4):654-8.
Lorenzen K, Anke T, Konetschny-Rapp S, Scheuer W.
5-hydroxy-3-vinyl-2(5H)-furanone–a new inhibitor of human synovial phospholipase A2 and platelet aggregation from fermentations of a Calyptella species (basidiomycetes).
Z Naturforsch-[C]. 1995 50(5-6):403-9.
Nagasawa E.
A preliminary checklist of the Japanese Agaricales. II. The suborder Russulineae
Reports of the Tottori Mycological Institute. 1998 0(36):36-71.
Ohtsuka S, Ueno S, Yoshikumi C, Hirose F, Ohmura Y, Wada T, Fujii T, Takahashi E.
Polysaccharides having an anticarcinogenic effect and a method of producing them from species of Basidiomycetes.
UK Patent 1331513, 26 September 1973.
Takahashi A, Kusano G, Ohta T, Nozoe S.
The constituents of Lactarius flavidulus Imai.
Chem Pharm Bull. 1988 36(7):2366-70.
Takahashi A, Kusano G, Ohta T, Nozoe S.
Revised structures of flavidulols, constituents of Lactarius flavidulus Imai, and the structure of flavidulol-D.
Chem Pharm Bull. 1993 41(11):2032-3.