Synonyms
Agaricus camphoratus Bull.
Agaricus cimicarius Batsch
Agaricus subdulcis ß camphoratus (Bull.) Fr.
Lactarius camphoratus var. terrei (Berk. & Broome) Cooke
Lactarius cimicarius (Batsch) Gillet
Lactarius terrei Berk. & Broome
Lactifluus camphoratus (Bull.) Kuntze
Lactifluus terrei (Berk. & Broome) Kuntze
Common names
Curry-scented milk cap
Candy cap
Kampfermilchling (German)
Lactaire camphré (French)

Description
Cap: 1.5-4 cm diameter, convex, often umbonate, becoming expanded and at length depressed, fulvous to dark brownish red, dry, glabrous, not zoned, sometimes slightly wrinkled and uneven, margin at first involute, becoming arched.
Flesh: thin firm, fragile, tinged the color of the pileus or paler, odor fragrant and aromatic, especially on drying.
Latex: white, mild, in dry weather often scarnt.
Gills: adnate to slightly decurrent, close, rather narrow, whitish to flesh colored, becoming reddish brown.
Stem: 1.5-5 cm tall, 0.3-1 cm thick, equal, glabrous to pruinose, spongy-stuffed, colored like the cap or paler.
Spores: subglobose, white, mostly 6.5-8.5 x 5.5-7.5 µm, ornamented with fairly coarse warts, separate or less confluent forming short ridges, or some joined by lines, sometimes partly reticulate.
Habitat: grows on the ground or on very rotten wood in mixed woods, from July to September.
Bioactive compounds
The sesquiterpene 12-hydroxycaryophyllene-4,5-oxide (shown in the next diagram) was isolated from the ethanolic extract (Daniewski et al., 1981). This was the first report of the caryophyllene skeleton in Lactarius. Interestingly, this molecule also contributes to the spicy taste of black pepper and cloves.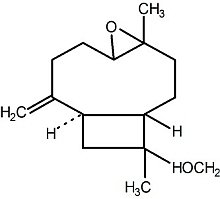 Medicinal properties
Antiviral activity
A hot water extract of L. camphoratus, screened for human immunodeficiency virus (HIV)-1 reverse transcriptase inhibitory activity, elicited 53.5% inhibition at the concentration of 1 mg/mL (Wang et al., 2007).
Anti-tumor activity
Polysaccharides extracted from the mycelial culture of L. camphoratus and administered intraperitoneally into white mice at a dosage of 300 mg/kg inhibited the growth of Sarcoma 180 and Ehrlich solid cancers by 70% (Ohtsuka et al., 1973).
Links
References
Daniewski WM, Grieco PA, Huffman JC, Rymkiewicz A, Wawrzun A.
Constituents of higher fungi .13. Isolation of 12-hydroxycaryophyllene-4,5-oxide, a sesquiterpene from Lactarius camphoratus.
Phytochemistry. 1981 20(12):2733-4.
Ohtsuka S, Ueno S, Yoshikumi C, Hirose F, Ohmura Y, Wada T, Fujii T, Takahashi E.
Polysaccharides having an anticarcinogenic effect and a method of producing them from species of Basidiomycetes.
UK Patent 1331513, 26 September 1973.
Wang J, Wang HX, Ng TB.
A peptide with HIV-1 reverse transcriptase inhibitory activity from the medicinal mushroom Russula paludosa.
Peptides. 2007 28(3):560-5.