Collecting wild mushrooms doesn't require a lot of special equipment—that is part of the appeal. Generally, a basket (or a bag) and a knife are enough, and almost any knife will do. But not all knives will do equally well.
Knife preferences vary among collectors, and a collector's taste in knives may evolve quite a bit over time, but there are some common trends. There are certain considerations that any collector must weigh to a greater or lesser extent. And yes, there are knives specifically designed for use by mushroom enthusiasts.
| | | Header |
| --- | --- | --- |
| | 420HC Steel, 7 3/4" Length, Edge Retention, Made in the USA. | |
| | Stainless Steel Blade, Oak Handle, Boar Bristle Brush, Made in France. | |
| | Brass Satin Handle, 3" Blade, 4" Handle, Warikomi Steel, Made in Japan. | |
Considerations for Choosing a Mushroom Knife
Most mushrooms tear easily and can therefore be pulled from their substrate without difficulty by hand. The problem is that the tear will likely be uneven, either lowering the quality of the mushroom or damaging the mycelium it grew from, or both. A knife, any knife, prevents tearing during harvest. Even a plastic serrated butter knife will work in most cases.
So why not use a cheap, plastic knife?
A few foragers do use plastic, but most prefer the cleaner cut offered by steal. Plus there are other considerations. Each forager chooses a favorite knife by finding a balance among five, sometimes competing, issues.
Safety
A dull knife could slip and cut its user. A folding knife, especially one without a safety lock, could open up in a pocket or a bag or, conversely, close on the user's fingers. Of course, folding knives can be used safely with a little care, but if safety were the only consideration, the ideal purchase would be fixed-blade knife with a good, steel edge.
Convenience
Foragers like to be able to carry their knives around with them everywhere because an interesting mushroom could be anywhere. But an overly-large knife might be awkward to carry and might also frighten, or at least look weird to, the non-mushroom-obsessed public (also, fellow mushroom-obsessives might laugh). A small folding knife is nicely discrete and fits in a pocket. The extreme of convenience might indeed be made of plastic, as it could be carried into places where knives are strictly banned, such as airplanes.
Utility
While almost any knife might work on most mushrooms, some are tougher and harder to cut. Also, a forager might have to cut other things while out on a hunt, and it would be good to have a knife able to do double-duty. From the perspective of maximum utility, a sturdy all-purpose camp knife, able to whittle kindling for a fire or skin a deer, would be best. A high-quality multi-tool would work nicely, too, although some styles of multiple-tool folding knives have weak, impractical blades. Knives made specifically for mushroom hunting often take the principle of utility in another direction; they are moderately-sized blades with a little brush on the handle, so that the same tool can both harvest a mushroom and clean the dirt off of it. Some even come with tweezers for removing insects.
Durability
A good mushroom knife must last, despite being subject to dampness, dirt, and the bottoms of backpacks. Any knife will last longer if well taken-care of, but the most durable knives will be fixed-blade with a full tang and a stainless steel blade. Carbon steel blades need a little more maintenance, but are easier to sharpen.
Cost
High-quality knives are expensive, at least when bought new. Unless a forager is also a knife enthusiast, there is no need to shell out a lot of money for excellence when a more basic tool will get the job done perfectly well.
Best Mushroom Knives
The following section is meant to represent multiple perspectives on what a mushroom knife is. There is something to please every forager, from the one who wants a specialized tool designed specifically for mushrooming to the one wants to be ready for anything including an awesome flush of oysters.
The only category not represented in this selection is that of the very low-cost knife. There are actually lots of options at $20 or less, and it's even possible to get a specialized mushroom knife for $10 or less. Quality is generally poorer at the lower price points, so we don't even consider them.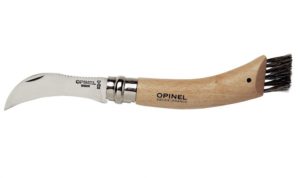 A folding knife designed for mushroom-hunting specifically, with a short, curved, stainless steel blade and a brush on the other end. High-quality materials and workmanship make it very lightweight and easy to use. The price is quite reasonable, considering how good it is.
Buy the No. 08 Opinel Mushroom Knife Here.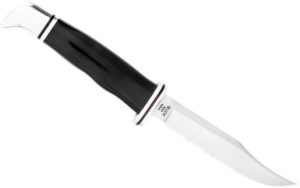 The 102 is a good all-purpose, fixed-blade knife that also works quite nicely for mushroom-hunting; it's not too big overall, and the tip is the perfect size and shape for getting small mushrooms out of hard-to-reach places.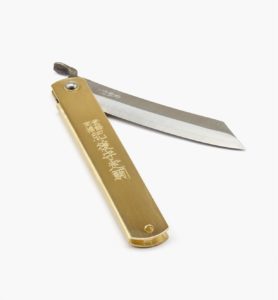 A small, very light-weight folding knife. The carbon steel makes this knife a bit higher-maintenance, but it holds a very sharp edge through a lot of use, and it's easy to re-sharpen when the time comes. The blade flicks out easily, a feature some users like and others do not, but carrying it in a small pocket so it can't open accidentally should prevent accidents. This one is the height of convenience and discretion.
Anza knives—this is a brand, not a model—are the height of durability, as they are made of the same super-hard steel used to make files. They are heavy and hard to sharpen but will stand up to a lot of abuse. They are a bit large for mushroom knives, but fit the category of all-purpose knife that works for mushroom harvesting also.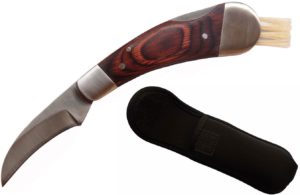 The brush, as well as the blade, folds. The wooden handle is lovely as well as easy to grip, and the knife comes with a book on mushrooms, so it makes a good gift for a beginner.
Buy a Hanziup Folding Mushroom Knife Here.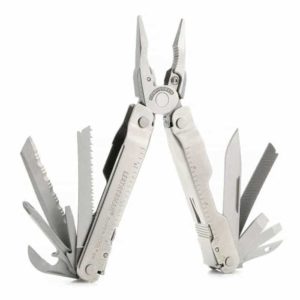 The Leatherman brand includes a whole range of folding knives, several of which include multiple tools, such as pliers, a file, and multiple screwdrivers. The back of some is marked as a ruler. Unlike most multiple-tool designs, which are often able to do dozens of tasks badly, Leatherman's offerings are study and functional. Each one comes in an inconspicuous holder that fits nicely in a pocket or a belt. While not specialized mushroom knives, these are tool s to carry to be ready for anything—including mushroom foraging.
Buy our recommended Leatherman Multi-Tool Here.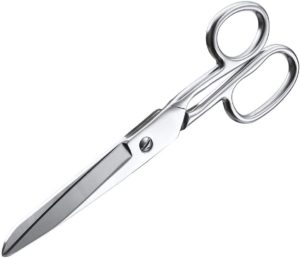 Scissors are not knives, but some foragers prefer them. A good pair of scissors is faster and more comfortable to use, but only for smaller, more easily-cut mushrooms.
Buy our Recommended Scissors Here.
Caring for a Mushroom Knife
For best results, it's important to take care of a mushroom knife (or any knife) properly. The first step is usually to sharpen the knife. Some knives are shipped dull; that's not a mistake. Dull knives are safer to handle (though more dangerous to use), so since they don't need to be sharp until they get to the customer, it's often left up to the customer to sharpen them. Users who don't know how to properly sharpen a knife should get trained—sharpening is a skill, and doing it wrong could damage the knife or seriously injure the user.
All knives must also be cleaned and fully dried after each use, and all will eventually need to be re-sharpened. Folding knives will need to have their hinges cleaned and lubricated periodically.
Most mushroom knives are made of stainless steel, but some are made of high-carbon steel instead. High-carbon steel can be made much sharper than stainless steel, but does need to be re-sharpened more often (it is easier to sharpen well, though). High-carbon steel is also much more vulnerable to rust. To protect these knives, begin by helping the blade to develop a patina as soon as possible—one popular method involves wiping the blade with a potato and giving it a coat of food-grade mineral oil. It is also important to keep the knife very clean and dry and to store it completely dry between uses.