Synonyms
Agaricus roridus Scop.
Mycena rorida (Scop.) Quél.
Roridella rorida (Scop.) E. Horak
Common names
Dripping bonnet
Slippery mycena
Schleimfuss-Helmling (German)

Description
This species is recognizable by the thick, clear mucus covering the stem, from which it derives the epithet roridus (from the Latin roridus = bedewed). I would be interested in knowing the biochemical composition of this slime layer… perhaps it's a secreted source of anti-tumor β-glucans? Some carbohydrate analysis might do the trick.
R. roridus is reported to be bioluminescent, and one of several species (see others here) responsible for "foxfire", the phosphorescent glow sometimes given off by these fungi when composing dead wood.
Cap: 0.2-1 cm diameter, convex to broadly convex, often with a central depression and a straight margin that spreads and often becomes notched in age; color white to dirty yellowish; surface dry grooved when moist, but becoming even when dry.
Gills: adnate to decurrent; broad, white.
Stem: 1-4 cm high, very slender (~1-2 mm thick), elastic; concolorous with cap near stem apex; covered in a thick layer of clear slime that is thicker towards the base.
Flesh: thin, quite fragile; whitish.
Odor & taste: unknown.
Spores: ellipsoid, pointed at the base, amyloid, 8-12 x 4-5 µm. The basidia are 2-spored.
Spore print: white.
Habitat: gregarious on conifers debris (needles, twigs, etc.). Not uncommon. Found in Europe and eastern and western states of North America, Australia (Grgurinovic et al., 1981), and also reported recently in China (Tolgor, 2007). April to November.
Edibility: unknown.
The culture characteristics of both this species and various Mycena species have been reported (Treu and Agerer, 1990). In this particular study, the dripping bonnet, grown on malt agar, was not bioluminescent, suggesting it might require some specific nutrient that is in its normal diet of decaying wood, but absent in the malt agar.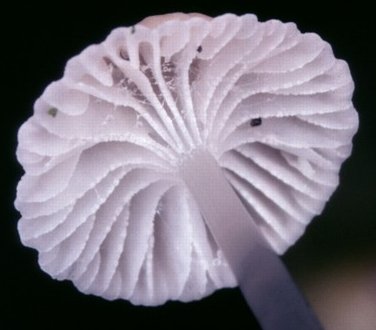 Medicinal properties
Antitumor effects
Polysaccharides extracted from the mycelial culture of R. roridus and administered intraperitoneally into white mice at a dosage of 300 mg/kg inhibited the growth of Sarcoma 180 and Ehrlich solid cancers by 100% and 90%, respectively (Ohtsuka et al., 1973).
Links
Google book preview from David Arora's (1986) Mushroom's Demystified (p. 237), and another from Miller and Miller's (2006) North American Mushrooms: A Field Guide to Edible and Inedible Fungi (p. 167).
References
Grgurinovic C, Holland AA, Fuhrer BA.
Notes on Australian species of Mycena.
Meeting of the 13th International Botanical Congress, Syndey, NSW, Australia, Aug. 21-28, 1981.
Proc Int Bot Cong. 1981 Vol 13. 293 pp.
Horak E.
Mycena rorida (Fr) Quel and related species from Southern hemisphere.
Bull Soc Bot Sui. 1978 88(1-2) 20-9.
Ohtsuka S, Ueno S, Yoshikumi C, Hirose F, Ohmura Y, Wada T, Fujii T, Takahashi E.
Polysaccharides having an anticarcinogenic effect and a method of producing them from species of Basidiomycetes.
UK Patent 1331513, 26 September 1973.
Tolgor B.
Notes on Basidiomycetes of Jilin province (VIII).
J Fung Res. 2007 5(2):72-74.
Treu R, Agerer R.
Culture characteristics of some Mycena species.
Mycotaxon. 1990 38:279-310.