The white domecap, Lyophyllum connatum (Schumach.) Singer.
Classification
Kingdom Fungi
Phylum Basidiomycota
Class Basidiomycetes
Order Agaricales
Family Tricholomataceae
Genus Lyophyllum
Synonyms
Agaricus connatus Schumach.
  Enum. pl. (Kjbenhavn) 2: 299 (1803)
Clitocybe connata (Schumach.) Gillet
  Hyménomycètes (Alençon): 164 (1874)
Tricholoma connatum (Schumach.) Ricken
  Die Blätterpilze: 360 (1915)
Common names
White domecap
Fried chicken mushroom
Witte bundelridderzwam (Dutch)
Lyophylle en touffe (French)
Weißer Rasling (German)
Oshiroishimeji (Japanese)
Лиофиллум сросшийся (Russian)
Description
Cap: 3-9 cm diameter, initially capitate–globose, later convex to applanate with an involute margin; margin mostly repand to irregularly undulate and partly also crenate; white, when moist also with a lead-grey tinge; surface floccose and in places with a varnish-like sheen, in part also with grey-white spots where the pruina is absent; when dry dull, when soaked transparent; sometimes slightly umbonate.
Stem: 4-10 x 0.8-2 x 0.5-1 cm, laterally flattened, grooved on the flattened sides; swollen towards base, curved, white, upper region is pruinose, towards the base indistinctly pruinose like the surface of the cap; sometimes several stems are joined together at the base, making them densely fasciculate; flesh white, thin in the cap (2-3 mm) and with a central hollow in the stem.
Gills: adnate to decurrent, with intercalated lamellulae, fairly crowded, 7-8 mm broad; white with a tinge of grey.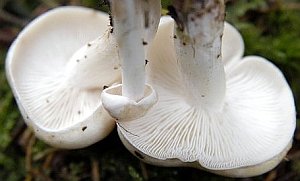 Spore print: white.
Spores: ellipsoid, hyaline, smooth, with droplets, 6-7 x 3-4 µm.
Taste: mild.
Odor: mealy.
Edibility: listed by many guidebooks as edible. However, some of the bioactive nitrogen compounds mentioned below have suspect toxicology, because the parent compound N-hydroxyurea is a mutagen and DNA synthesis inhibitor (Fugmann and Steglich 1984).
Habitat: densely fasciculate to gregarious, grows on ground, often along roads and paths on freshly turned soil; autumn, common.
Chemical tests: stains violet after exposure to iron salts (FeCl3 or FeSO4).
Description adapted and modified from Bresinsky et al., 1990, p.187-8.

Bioactive compounds
A variety of bioactive components have been reported from the methanolic extract of fresh fruit bodies of L. connatum, including N-hydroxy-N',N'-dimethylurea (yield 0.01-0.02%, fresh weight), the N-hydroxyamino acid chromogen connatin (Nδ-hydroxy-Nω,Nω-dimethylcitrullin, yield 0.20-0.25%), and the alkylazoxycarboxamide lyophillin (N,N-dimethylazoxycarboxamide, yield 0.04%) (Fugmann and Steglich, 1984). Lyophyllin was previously shown to be formed by oxidative condensation of N-hydroxy-N'N'-dimethyurea with N-methylhydroxylamine by an unspecific condensing enzyme (Ye et al., 1997).
Eight ergostane-type sterols have been isolated from the fruit bodies of L. connatum  (Hazuki et al., 2002), as well as the novel ceramide (2S, 3S,4R)-2- [(9'Z, 12'Z)-9′, 12′-octadecadienoylamino]- 1, 3, 4-octadecanetriol (Yaoita et al., 2003).
Medicinal properties
Antioxidant activity/Free-radical scavenging activity
The methanol extract of L. connatum was reported to have antioxidant and free-radical scavenging abilities (Keller et al., 2002). Later research identified some of the specific compounds responsible:  ergothionene (ERT), N-hydroxy-N',N'-dimethylurea, connatin (N-hydroxy-N',N'-dimethylcitrullin), and the novel ergothioneine derivative, β-hydroxyergothioneine (HERT) (Kimura et al., 2005). Notably, ERT and HERT had radical-scavenging activity almost equivalent to trolox, the water-soluble vitamin E analogue used as a positive control in the DPPH radical-scavenging assay.
Hepatoprotective effects
Both ergothioneine and β-hydroxyergothioneine showed protective ability against carbon tetrachloride-induced injury in rat primary liver cell cultures (Kimura et al., 2005).
Antiinflammatory effects
Methanol extracts of L. connatum inhibited the inflammatory activity induced by 12-O-tetradecanoylphorbol-13-acetate in the mouse ear oedema assay (Yasakuwa et al., 1996).

Links
More pictures and description at  Fungi of Poland, and Italian Wikipedia
References
Bresinsky A, Besl H, Bisset NG. (1990)
A Colour Atlas of Poisonous Fungi: A Handbook for Pharmacists, Doctors, and Biologists.
CRC Press, 295 pp.
Google Books preview
Fugmann B, Steglich W.
Unusual components of the toadstool Lyophyllum connatum (Agaricales).
Angewandte Chemie. 1984 23(1):72-3.
Hazuki K, Saori O, Yasunori Y, Masao K.
Constituents of mushrooms. XVIII. Chemical constituents from the fruiting bodies of Pholiota terrestris Overholts and Lyophyllum connatum (Schum.:Fr.) Sing.
J Tohoku Pharm Univ. 2002 49:85-89.
Kimura C, Nukina M, Igarashi K, Sugawara Y.
β-Hydroxyergothioneine, a new ergothioneine derivative from the mushroom Lyophyllum connatum, and its protective activity against carbon tetrachloride-induced injury in primary culture hepatocytes.
Biosci Biotechnol Biochem. 2005 69(2):357-63.
Pubmed
Keller C, Maillard M, Keller J, Hostettmann K.
Screening of European fungi for antibacterial, antifungal, larvicidal, molluscicidal, antioxidant and free-radical scavenging activities and subsequent isolation of bioactive compounds.
Pharma Biol. 2002 40(7):518-25.
Yaoita Y, Hosokawa  M, Okabe S, Kikuchi M.
A new ceramide from two edible mushrooms, Grifola frondosa and Lyophyllum connatum.
Nat Med. 2003 57(5):189-91.
Yaoita Y, Kohata R, Kakuda R, Machida K, Kikuchi M.
Ceramide constituents from five mushrooms.
Chem Pharm Bull (Tokyo). 2002 50(5):681-4.
Pubmed
Ye Y, Aulinger K, Arnold N, Spahl W, Steglich W.
Biosynthesis of the azoxycarboxamide lyophyllin and formation of some of its unnatural analogues in fruit-bodies of Lyophyllum connatum.
Tetra Lett 1997 38(46):8013-6.
Yasukawa K, Kanno H, Kaminaga T, Takido M, Kasahara Y, Kumaki K.
Inhibitory effect of methanol extracts from edible mushroom on TPA-induced ear oedema and tumour promotion in mouse skin.
Phytother Res. 1996 10(4):367-9.