The bay bolete, Boletus badius (Fr.) Fr.
Classification
Kingdom Fungi
Phylum Basidiomycota
Class Basidiomycetes
Order Boletales
Family Boletaceae
Genus Boletus

Synonyms
Boletus castaneus ß badius Fr.
  Observ. mycol. (Havniae) 2: 247 (1818)
Ixocomus badius (Fr.) Quél.
  Fl. Mycol. France (Paris): 412 (1888)
Suillus badius (Fr.)
  Kuntze, 3(2) (1898)
Xerocomus badius (Fr.) Kühner
Common names
Bay bolete
Brunstokket rorhat/Svartbrun rorsopp (Danish)
Ruskotatti (Finnish)
Bolet bai (French)
Kastanjeboleet (Dutch)
Barna tinorú (Hungarian)
Maronenröhrling (German)
Podgrzybek brunatny (Polish)
Suchohríb hnedý (Slovak)
Suchohřib hnědý modrák (Czech)
Boleto bayo (Spanish)
Brunsopp (Swedish)
Польский гриб (Russian)
Description
Cap: 4-15 cm broad; bay- to dark brick-color later flushed ochraceous brown, initially downy, becoming smooth and polished, slightly viscid in wet weather.
Stem: 4–12 cm tall x 1–4 cm diameter, concolorous with cap or paler, surface slightly cottony, more or less equal.
Flesh: white to lemon-yellow on cutting becoming faintly blue particularly in stem apex and above tubes, vinaceous in cap. Taste and smell mild and mushroomy.
Tubes: cream to lemon-yellow, bruising bluish green. Pores large, readily bruising blue-green.
Spore print: oliveaceous brown.
Spores: smooth, thick-walled, subfusiform, 13–15 x 4.0–6.0µ.
Odor and taste: not distinctive.
Edibility: edible, and less prone to maggot infestation than other boletes. Be aware that one paper reported an allergic reaction caused by the consumption of this species (Bennink and de Vries, 2007).
Habitat: in mixed woods, found in late summer and autumn. Found in America and Europe.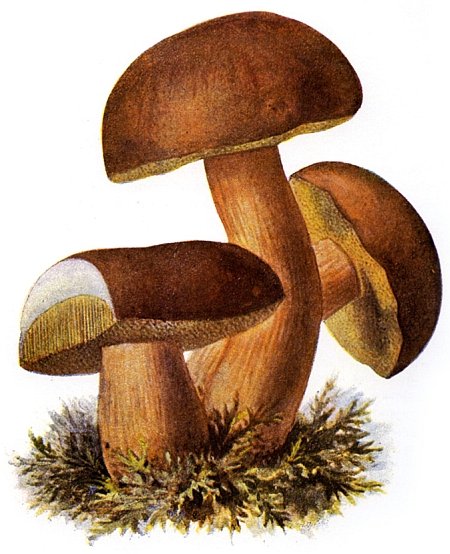 Bioactive compounds
Polysaccharides
Two polysaccharide fractions have been isolated from B. badius fruit bodies: polysaccharide fraction A (dry weight yield of 0.41%) and polysaccharide fraction B (dry weight yield of  0.89%). Fraction A was composed of glucose, while fraction B contained mainly glucose and mannose. Biological activity testing using the Allium test showed that fraction A exhibited a mitostatic action at a concentration of 0.5%, while fraction B showed such activity at 0.5% and 0.25% concentrations after 24 h and 48 h. Polysaccharide fraction B had a direct influence on cell division in the Tetrahymena test (Wegiel et al., 2001).
Theanine
L-theanine (N-ethyl-γ-glutamine or γ-glutamylethylamide, shown below) is a non-protein forming amino acid that occurs in the bay bolete (Casimir et al., 1960).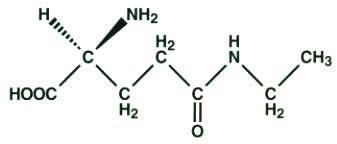 A number of studies have recently investigated the physiological and pharmacological potential of this rare amino acid, associated most commonly with tea leaves (Camellia sinensis). These studies suggest that theanine may be useful for the following:
– promoting relaxation (Lu et al., 2004)
– reducing blood pressure (Yokogoshi et al., 1995)
– inhibiting the negative effects of caffeine (Kakuda et al., 2000)
– enhancing anti-tumor activity (Sadzuka et al., 2000)
– providing neuroprotective effects (Egashira et al., 2004)
– providing anti-obesity effects (Zheng et al., 2004)
A Chinese study has demonstrated a promising method for producing theanine by using submerged fermentation of B. badius mycelium and response surface methodology (Li et al., 2008).
Medicinal properties
Antioxidant activity/FRSA
The methanolic extract of dried Boletus badius was analyzed for antioxidant activity in different systems including reducing power, free radical scavenging, superoxide anion radical scavenging, total antioxidant activity, and metal chelating activities. The percentage inhibition of the methanolic extract of dried B. badius at 100 µg/mL concentrations on peroxidation in the linoleic acid system was 99.2%, and greater than 400 µg/mL of α-tocopherol, BHA and BHT (77%, 85%, and 97%, respectively). The methanolic extract from B. badius was better at scavenging O˙2 than a variety of other mushroom species. The scavenging effects of the methanolic extracts from the bay bolete was 68.7 (compare with 97.4 and 95.4 for BHA and α-tocopherol, respectively). The metal scavenging effect of the methanolic extract of B. badius was 77.6% (superior than BHA, α-tocopherol, and BHT – 47.8%, 45.7% and 68.5%, repectively). α-Tocopherol was found in the bay bolete, at a concentration of 8.88±0.12 mg/g. Also, B. badius had a relatively high content of total polyphenolics (Elmastas et al., 2006).
Antitumor effects
Polysaccharides extracted from the mycelial culture of B. badius and administered intraperitoneally into white mice at a dosage of 300 mg/kg inhibited the growth of Sarcoma 180 and Ehrlich solid cancers by 60% and 70%, respectively (Ohtsuka et al., 1973).
Neuronal inhibition
The effects of water and ethanol extracts of Boletus edulis on the impulse activity of 45 neurons recorded from the hippocampal stratum pyramidale (CA1 region) were studied.  B. edulis clearly inhibited the impulse activity (Moldovan et al., 2001).
Links
References
Bennink A, de Vries B.
Allergic to Boletes.
Coolia. 2007 50(1):47-8.
Casimir J, Jadot J, Renard M.
[Separation and characterization of N-ethyl-γ-glutamine from Xerocomus badius.]
Biochim Biophys Acta. 1960 39:462-8. French. No abstract available.
Egashira N, Hayakawa K, Mishima K, Kimura H, Iwasaki K, Fujiwara M.
Neuroprotective effect of γ-glutamylethylamide (theanine) on cerebral infarction in mice.
Neurosci Lett. 2004 363:58–61.
Elmastas M, Isildak O, Turkekul I, Temur N.
Determination of antioxidant activity and antioxidant compounds in wild edible mushrooms.
J Food Comp Anal. 2007 20 (3-4):337-45.
Grzybek J.
Polysaccharides from fruiting bodies of Xerocomus badius and their mitotic activity in the Allium test.
Meeting Information: 41st Annual Congress of the Society for Medicinal Plant Research Duesseldorf, Germany
Planta Medica. 1993 59(7 SUPPL):A674.
Kakuda T, Nozawa A, Unno T, Okamura N, Okai O.
Inhibiting effects of theanine on caffeine stimulation evaluated by EEG in the rat.
Biosci Biotechnol Biochem. 2000 64(2):287–293.
Li J, Li P, Liu F.
Production of theanine by Xerocomus badius (mushroom) using submerged fermentation.
LWT-Food Sci Technol. 2008 41(5):883-9.
Lu K, Gray MA, Oliver C, Liley DT, Harrison BJ, Bartholomeusz CF, Phan KL, Nathan PJ.
The acute effects of L-theanine in comparison with alprazolam on anticipatory anxiety in humans.
Hum Psychopharmacol Clin Exp. 2004 19(7):457–65.
Moldavan MG, Grodzynska GA, Wasser SP, Storozhuk VM.
Effects of some higher Basidiomycetes extracts on the neurons activity.
Ukrayins'kyi Botanichnyi Zhurnal. 2001 58(2):220-8.
Ohtsuka S, Ueno S, Yoshikumi C, Hirose F, Ohmura Y, Wada T, Fujii T, Takahashi E.
Polysaccharides having an anticarcinogenic effect and a method of producing them from species of Basidiomycetes.
UK Patent 1331513, 26 September 1973.
Sadzuka Y, Sugiyama T,  Sonobe T.
Improvement of idarubicin induced antitumor activity and bone marrow suppression by theanine, a component of tea.
Canc Lett. 2000 158(2):119–124.
Steffan B, Steglich W.
Fungal pigments .44. Pigments from the cap cuticle of the Bay Boletus (Xerocomus badius).
Angew Chem. 1984 23(6):445-7.
Wegiel J, Konska G, Guillot J, Muszynska B, Bohatier J, Kohlmunzer S.
Isolation and antimitotic activity of polysaccharides from fruit bodies of Xerocomus badius (Fr.) Kuhn. ex Gilib.
Acta Biol Cracov Bot. 2001 43:59-64.
Yokogoshi H, Kato Y, Sagesaka YM, Takihara-Matsuura T, Kakuda T, Takeuchi N.
Reduction effect of theanine on blood pressure and brain 5-hydroxyindoles in spontaneously hypertensive rats.
Biosci Biotechnol Biochem. 1995 59(4):615–618.
Zheng G, Sayama K, Okubo T, Juneja LR, Oguni I.
Anti-obesity effects of three major components of green tea, catechins, caffeine and theanine, in mice.
In vivo. 2004 18(1):55–62.