The stipitate polypore Boletopsis leucomelaena (Pers.) Fayod, on display at the 2001 HBMS Fungus Fair in Eureka, California…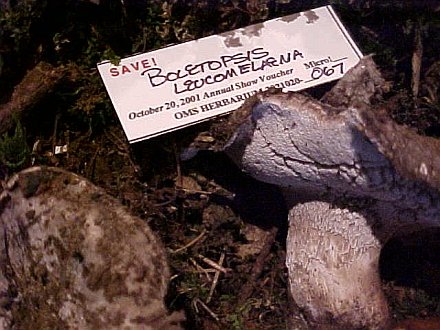 Classification
Kingdom Fungi
Phylum Basidiomycota
Class Basidiomycetes
Order Thelephorales
Family Bankeraceae
Genus Boletopsis

Synonyms
Boletus leucomelas Pers.
  Syn. meth. fung. (Göttingen): 151 (1801)
Boletopsis leucomelas (Pers.:Fr.) Fayod
Caloporus leucomelas (Pers.) Quél.
  Fl. mycol. France (Paris): 405 (1888)
Polyporus leucomelas (Pers.) Pers.
  Mycol. eur. (Erlanga) 2: 40 (1825)
Polyporus ovinus subsp. leucomelas (Pers.) Bourdot & Galzin
  Bull. trimest. Soc. mycol. Fr. 41: 102 (1925)
Polyporus subsquamosus var. leucomelas (Pers.) Fr.
  Syst. mycol. (Lundae) 1: 345 (1821)
Common names
Black falsebolete
Boletopsis noir et blanc (French)
Kurokawa (Japanese)
Gråkjuke (Norwegian)
Description
Cap: 5-15 cm diameter, convex, undulating, color grayish-brown with oliveaceous tints, nearly white at the incurved margin, smooth or slightly scaly, dry; flesh firm, white, darker just above the tubes.
Tubes: 7-10 mm deep, 1-3 pores/mm, white to slightly oliveaceous, decurrent.
Stem: 3-8 cm long, 1.5-3 cm wide, central or lateral, dull white, tinted brown, glabrous, dry; flesh white initially, turning pink to dark grey upon exposure to air.
Odor: none
Taste: mild or slightly bitter.
Spores: subglobose, angular, entire, thin-walled, nonamyloid, 5-6 x 3.5-5.0 µm.
Spore print: white.
Habitat: on the ground, single to several in needle litter in pine forests; fruiting in summer and early fall.
Description adapted from Miller and Miller (2006), p. 416.

Bioactive compounds
Terphenyls
Fruiting bodies of B. leucomelaena contain the leuco-peracetates of thelephoric acid and cycloleucomelone (shown below) (Jägers et al., 1987).

Additional terphenyl compounds showing 5-lipoxygenase inhibitory activity have been isolated and determined to be a series of cycloleucomelone-leucoacetates (Takahashi et al., 1992).
Lectins
Boletopsis leucomelaena lectin (BLL), a 15 kDa protein with some similarity to Agaricus bisporus lectin, induces apoptosis in human leukemia U937 cells (see below) (Koyama et al., 2002). GlcNAc-binding lectin from Boletopsis leucomelaena lectin BLL was isolated and characterized with respect to oligosaccharide specificity using by frontal affinity chromatography (Koyama et al., 2006; Nakamura-Tsuruta et al., 2006).  BLL is one of few available lectins with significant affinity toward agalacto-type N-glycans, and may be useful as a probe of carbohydrate-binding specificity in lectin-based structural genomics.
Medicinal properties
Antitumor effects
Polysaccharides extracted from the mycelial culture of B. leucomelaena (as B. leucomelas) and administered intraperitoneally into white mice at a dosage of 300 mg/kg inhibited the growth of Sarcoma 180 and Ehrlich solid cancers by 80% and 70%, respectively (Ohtsuka et al., 1973).
Boletopsis leucomelaena lectin (BLL) induces G2/M cell cycle arrest in human leukemic U937 cells. This effect is the result of upregulation of p21/Waf1 expression and release of cytochrome c from the mitochondria to the cytoplasm, ultimately resulting in the activation of caspase-9 in BLL-treated U937 cells – an effect known to trigger apoptosis (Koyama et al., 2005).
Links
References
Axelsson K, Bjorndal H.
Polysaccharides elaborated by Polyporus ovinus (Schaeff). 1. Structure of a fucogalactan from the water extracts of the fruit bodies.
Acta Chem Scand. 1969 23(5):1815-7. No abstract available.
Jägers E, Hillenmaske E, Steglich W.
Fungal Pigments .54. Metabolites of Boletopsis leucomelaena (basidiomycetes) – clarification of the chemical nature of leucomelone and protoleucomelone.
Z Naturfors B. 1987 42(10):1349-53.
Koyama Y, Katsuno Y, Miyoshi N, Hayakawa S, Mita T, Muto H, Isemura S, Aoyagi Y, Isemura M.
Apoptosis induction by lectin isolated from the mushroom Boletopsis leucomelas in U937 cells.
Biosci Biotechnol Biochem. 2002 66(4):784-9.
Koyama Y, Suzuki T, Kajiya A, Isemura M.
Involvement of G2/M cell cycle arrest and the mitochondrial pathway in Boletopsis leucomelaena (Pers.) Fayod (Agaricomycetideae) lectin-induced apoptosis of human leukemia U937 cells.
Int J Med Mushr. 2005 7:201-212.
Koyama Y, Suzuki T, Odani S, Nakamura S, Kominami J, Hirabayashi J, Isemura M.
Carbohydrate specificity of lectins from Boletopsis leucomelas and Aralia cordate.
Biosci Biotechnol Biochem. 2006 70(2):542-5.
Miller OK, Miller H. (2006).
North American Mushrooms: A Field Guide to Edible and Inedible Fungi.
Globe Pequot Press. 583 pp.
Nakamura-Tsuruta S, Kominami J, Kamei M, Koyama Y, Suzuki T, Isemura M, Hirabayashi J.
Comparative analysis by frontal affinity chromatography of oligosaccharide specificity of GlcNAc-binding lectins, Griffonia simplicifolia lectin-II (GSL-II) and Boletopsis leucomelas lectin (BLL).
J Biochem (Tokyo). 2006 140(2):285-91.
Niemela T, Saarenoksa R.
On Fennoscandian polypores. X: Boletopsis leucomelaena and B. grisea described and illustrated.
Karstenia. 1989 29(1):12-28.
Ohtsuka S, Ueno S, Yoshikumi C, Hirose F, Ohmura Y, Wada T, Fujii T, Takahashi E.
Polysaccharides having an anticarcinogenic effect and a method of producing them from species of Basidiomycetes.
UK Patent 1331513, 26 September 1973.
Rukunga GM, Kofi-Tsekpo MW, Kurokawa M, Kageyama S, Mungai GM, Muli JM, Tolo FM, Kibaya RM, Muthaura CN, Kanyara JN, Tukei PM, Shiraki K.
Evaluation of the HIV-1 reverse transcriptase inhibitory properties of extracts from some medicinal plants in Kenya.
Afr J Health Sci. 2002 9(1-2):81-90.
Takahashi A, Kudo R, Kusano G, Nozoe S.
5-Lipoxygenase inhibitors isolated from the mushroom Boletopsis leucomelas (Pers.) Fayod.
Chem Pharm Bull (Tokyo). 1992 40(12):3194-6.
Watling R, Milne J.
The identity of European and North American Boletopsis spp. (Basidiomycota; Thelephorales, Boletopidaceae).
North American Fungi. 2008 3(7):5-15.