Xeromphalina cauticinalis (With.) Kühner & Maire, photographed November 17, in Sonoma County, California.
Synonyms
Agaricus caulicinalis sensu Sowerby
  [Col. Fig. Engl. Fung. Vol. 2, pl. 163 (1789)];
fide Checklist of Basidiomycota of Great Britain and Ireland (2005)
Agaricus cauticinalis Bull.
Marasmius cauticinalis (Bull.) Fr.
  Epicr. syst. mycol. (Upsaliae): 383 (1838)
Marasmius fulvobulbillosus R.E. Fr.
Omphalia parvibulbosa Kauffman & A.H. Sm., (1933)
Omphalia pubescentipes Peck
Xeromphalina cauticinalis (With.) Kühner & Maire
  Bull. trimest. Soc. mycol. Fr. 50: 18 (1934) subsp. cauticinalis
Xeromphalina cauticinalis subsp. pubescentipes (Peck) Redhead
  Can. J. Bot. 66(3): 492 (1988)
Xeromphalina cauticinalis var. acida O.K. Mill., (1968)
Xeromphalina cauticinalis (With.) Kühner & Maire
  Bull. trimest. Soc. mycol. Fr. 50: 18 (1934) var. cauticinalis
Xeromphalina cauticinalis var. subfellea Bon
  Docums Mycol. 29(no. 115): 33 (1999)
Xeromphalina fulvobulbillosa (R.E. Fr.) Kühner & Romagn.
  Publ. Inst. Bot. Barcelona 3(4): 68 (1937)
Xeromphalina parvibulbosa (Kauffman & A.H. Sm.) Redhead
  Can. J. Bot. 66(3): 497 (1988)

Description
Cap: 1-2 cm diameter, convex with incurved margin initially, becoming plano-convex to plane and centrally depressed with recurved margin, faintly striate, ochreous with fulvous-colored disc and amber to pale luteous edges, fleshy, moist; context concolorous.
Gills: adnate to decurrent, moderately spaced, pale luteous to yellowish ochreous, lamellulae in 2-3 tiers.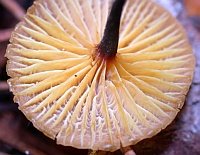 Stem: 25-70 x 0.6-2.5 mm (but usually slightly larger at the base), stuffed, ochreous to luteous apically, red-brown to brown, tomentose, powdered apically with ochreous-coloured cystidia, with a swollen ochreous- to fulvous-coloured base.
Spore print: white.
Spores: ellipsoid to ovoid, smooth, entire, thin-walled, hyaline, amyloid, 5-6 x 3-3.5 µm.
Habitat: solitary or several, sometimes in groups on conifer seeds, needs and sticks; wide distribution, fruiting in summer and fall.
Odor: not distinctive.
Taste: bitter
Edibility: unknown.
Chemical reactions: Singer (1936) reported changes in the yellow pigments to red or pink when mounted in alkaline solution (eg. 3% KOH).
Description adapted from Redhead (1988) and Stevenson (1964). See the former reference for a thorough discussion of microscopic features.
Medicinal properties
Antitumor effects
Polysaccharides extracted from the mycelial culture of X. cauticinalis and administered intraperitoneally into white mice at a dosage of 300 mg/kg inhibited the growth of Sarcoma 180 and Ehrlich solid cancers by 90% and 80%, respectively (Ohtsuka et al., 1973).
Links
Natura Mediterraneo has an impressive number of photographs of this species, as well as several microscopy pics.
References
Ohtsuka S, Ueno S, Yoshikumi C, Hirose F, Ohmura Y, Wada T, Fujii T, Takahashi E.
Polysaccharides having an anticarcinogenic effect and a method of producing them from species of Basidiomycetes.
UK Patent 1331513, 26 September 1973.
Redhead SA.
Notes on the genus Xeromphalina (Agaricales, Xerulaceae) in Canada: biogeography, nomenclature, taxonomy.
Can J Bot. 1988 66(3):479-507.
Singer R.
Bemerkungen über einige Basidiomyceten.
Ann Mycol. 1936 34:423-34.
Stevenson G.
The agaricales of New Zealand: V.
Kew Bulletin. 1964 19(1):1-59.