The scurfy twiglet, Tubaria furfuracea (Pers.) Gillet.
Synonyms
Agaricus furfuraceus Pers.
  Syn. meth. fung. (Göttingen) 2: 454 (1801)
Naucoria furfuracea (Pers.) P. Kumm.
  Führ. Pilzk. (Zwickau): 77 (1871)
Common name
Scurfy twiglet
Description
Cap: 1-4 cm diameter, convex at first, becoming flattened or centrally depressed; tan to cinnamon and striate from margin inwards when moist, drying pale buff and slightly scurfy.
Stem: 2-5 cm tall, 2-4 mm diameter, more or less concolorous with the cap; base covered in white mycelia; flesh thin and fragile.
Taste and smell: not distinctive.
Gills: broad, distant, adnate to subdecurrent.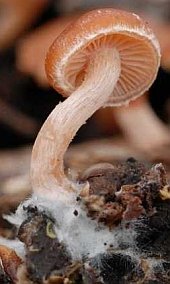 Spores: elliptical with rounded apex, 6-8.5 x 4-6 µm.
Spore print: pale ochre.

Habitat: found in groups or troops on twigs and woody debris all year, usually autumn to early winter; common.
Edibility: inedible.
This species closely resembles T. hiemalis. They may be distinguished microscopically – in T. furfuracea the cystidia are clavate, in T. hiemalis capitate.
Medicinal properties
Polysaccharides extracted from the mycelial culture of T. furfuracea and administered intraperitoneally into white mice at a dosage of 300 mg/kg inhibited the growth of Sarcoma 180 and Ehrlich solid cancers by 80% and 90%, respectively (Ohtsuka et al., 1973).
Links
California Fungi
Fungi of Poland
References
Ohtsuka S, Ueno S, Yoshikumi C, Hirose F, Ohmura Y, Wada T, Fujii T, Takahashi E.
Polysaccharides having an anticarcinogenic effect and a method of producing them from species of Basidiomycetes.
UK Patent 1331513, 26 September 1973.