The burnt knight mushroom, Tricholoma ustale (Fr.) P. Kumm.
Synonyms
Agaricus fulvellus Fr.
  Epicr. syst. mycol. (Upsaliae): 28 (1838)
Agaricus ustalis Fr.
  Observ. mycol. (Havniae) 2: 122 (1818)
Tricholoma albobrunneum sensu auct. brit.
  fide Checklist of Basidiomycota of Great Britain and Ireland (2005)
Tricholoma fulvellum (Fr.) Gillet
  Hyménomycètes (Alençon): 93 (1874)
Common names
Burnt knight
Sveden Ridderhat (Danish)
Bøkemusserong Brandiger (Norwegian)
Ritterling Blassfleischiger (German)
Beukenridderzwam (Dutch)
Tricholome brûlé (French)
Pyökkivalmuska (Finnish)

Description
Cap: 3-10 cm diameter, when young red-brown, chestnut-brown, with olive tint, covered thickly with mucus, centrally darker; later dry and black-brown, glossy; surface not zonate, glabrous, smooth; initially convex, later expanding with an inconspicuous umbo, margin incurved for a long time, acute, lighter colored.
Gills: white, light ochraceous-yellow, later red-brown, rusty-spotted, at maturity also with blackening edge; close, sinuate.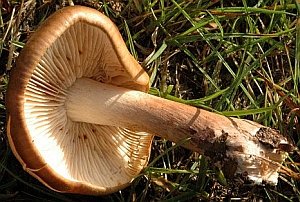 Stem: with red-brown fibrils, at apex whitish, surface dry, finely fibrillose, without ring zone; 50-80 x 10-15 mm, equal, often lower part enlarged and rooting; stiff, elastic, with age hollow; flesh white, cream-coloured, turns brown when injured, at the base of the stipe red-brown.
Spores: hyaline, ovoid or ellipsoid, 6-7.5 x 5-6 µm.
Spore print: white.
Taste: mild or slightly farinaceous.
Odor: odorless or weakly farinaceous.
Habitat: in hardwood forests, primarily under Fagus, solitary to gregarious, often almost clustered; widespread; summer-fall.
Edibility: edible or inedible, depending on the source. A Turkish study on protein content listed the species as edible (Yildiz et al., 2005), while a study on poisonous mushrooms and their biochemical effects in mice lists it as causing gastrointestinal irritation (Yamaura, 1988). In Vilna, Alberta (Canada), there is a 20-foot high replica sculpture of this species (incorrectly named on the website as Tricholoma uspale), and it is claimed that this species "is often used dried or cooked as a traditional ingredient in the ethnic (Ukrainian) dishes of the region." Japanese researchers (Sano et al., 2002) have isolated and characterized the fungal toxin as ustalic acid (shown below). They write that T. ustale is one of the three mushrooms responsible for most cases of poisoning in Japan. Recently, a method has been published to rapidly (1.5 hours) identify this species (using fresh or cooked specimens) with real-time PCR (Maeta et al., 2008).

Macromolecular composition
The burnt knight mushroom was shown to contain between 29.7-50.5% (dry weight) protein, higher than commercial cultivated mushrooms (Yildiz et al., 2005).
Medicinal properties
Antitumor effects
References
Bas C, Kuyper TW, Noordeloos ME, Vellinga EC. (1990).
Flora Agaricina Nederlandica (Vol. 2).
Rotterdam, Brookfield: AA Balkema.
Google books – p. 129
Bon M.
Revision of Tricholoma.
[Revision des Tricholomes]
Soc Mycol Fr Bull Trim. 1967 83(2):324-35.
Maeta K, Ochi T, Tokimoto K, Shimomura N, Maekawa N, Kawaguchi N, Nakaya M, Aimi T.
Rapid species identification of cooked poisonous mushrooms using real-time PCR.
Appl Environ Microbiol. 2008. Published online on 31 Mar 2008.
Ohtsuka S, Ueno S, Yoshikumi C, Hirose F, Ohmura Y, Wada T, Fujii T, Takahashi E.
Polysaccharides having an anticarcinogenic effect and a method of producing them from species of Basidiomycetes.
UK Patent 1331513, 26 September 1973.
Yamaura Y.
Classification of poisonous mushrooms according to their biochemical effects in mice.
Japanese Journal of Hygiene. 1988 43(2):669-78.
Yildiz A, Yesil OF, Yavuz O, Karakaplan M.
Organic elements and protein in some macrofungi of south east Anatolia in Turkey.
Food Chem. 2005 89(4):605-609.