The tawny funnel cap, Lepista inversa (Scop Pat.). The red-brown drop-like flecks on the cap suggest that this specimen grew under fairly humid conditions
Synonyms
Agaricus inversus Scop., Fl. carniol.
  Edn 2 (Vienna) 2: 445 (1772)
Clitocybe inversa (Scop.) Quél. [as 'inversus']
  Mém. Soc. Émul. Montbéliard, Sér. 2 5: 235 (1872)
Lepista flaccida var. inversa (Scop.) Chiari
  (2001) Recent record: see Index of Fungi
Common names
Tawny funnel cap
Roodbruine schijnridder (Dutch)
Clitocybe renversé (French)
Fuchsiger Trichterling (German)

Description
Cap: 5-10 cm diameter, broadly convex or centrally depressed with an inrolled  margin, becoming broadly depressed or even infundibuloform in age; surface dry, glabrous; color initially ochraceous-buff, later tawny, paler color when dry.
Gills: decurrent, close to crowded, narrow (3-4 mm), sometimes forked, white to buff to light pinkish-cinnamon or concolorous with cap
Stem: 2-5 cm long x 0.5- 1 cm diameter; concolorous (or paler) with cap, smooth at the apex, tomentose at base.
Sporeprint: almost whitish, very pale cream to pale-orange cream.
Spores: hyaline, verruculose, globose or subglobose to ellipsoid, non-amyloid, 4-5 x 3-4 µm.
Habitat: solitary or in small troops on soil in woods, especially in nitrogen-enriched areas; common; late July-Oct.
Odor and taste: not distinctive.
Edibility: edible.
This species is similar in appearance to L. flaccida. Some research has been put into determining if there are differences in the makeup of the volatile chemical profile that might be used to chemotaxonomically distinguish between these two species; there may be certain chlorinated compounds present only in L. inversa that might distinguish it from L. flaccida (Boustie et al., 2005).
As a note of warning, this species has been reported to have been mistaken with Clitocybe amoenolens, a poisonous mushroom that can cause erythromelalgia, a painful disorder resulting from blocked blood vessels in the lower extremities (Saviuc et al., 2002). Furthermore, significant bioaccumulation of arsenic and cadmium has been reported in L. inversa (Vetter, 1994). Avoid consuming mushrooms grown near contaminated sites!
Bioactive compounds
Clitocine (6-amino-5-nitro-4-(β-D-ribo-furanosylamino)pyrimidine, shown below) is an exocyclic amino nucleoside that was first isolated from C. inversa (Kubo and Kim, 1986). The total synthesis of clitocine has also been reported (Moss et al., 1988), as well as the solid-phase synthesis of a variety of chemical analogues (Varaprasad et al., 2006).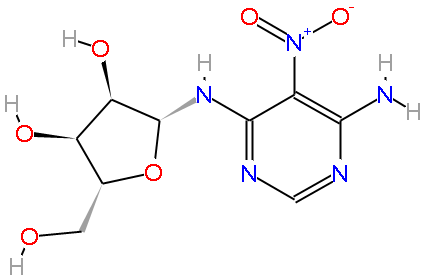 Medicinal properties
Antitumor activity
The cytotoxic activity of methanol extracts of fresh fruiting bodies of L. inversa was evaluated with two mouse cancer cell lines, L1210 (lymphocytic leukemia) and 3LL (Lewis lung carcinoma), and was shown to be active against both lines. The extract was also shown to have significant activity (IC50 ≤ 20 µg/ml) with 4 human cancer cell lines (K-562, U251, DU145, MCF7). This activity was even equal to or greater than a bark extract from Taxus baccata L., used as positive control (Bezivin et al., 2002).
In another study, a crude extract was studied against intraperitoneally transplanted lymphocytic leukemia (L1210) and intramuscularly transplanted Lewis lung carcinoma (3LL) in mice. The IC50 was determined to be about 500 mg/kg for an intraperitoneal administration (i.p.) of the extract; compared to the control group, i.p. administration of 75 mg/kg of body weight/day of the extract increased the lifespan of L1210 and 3LL tumor-bearing mice by 50% and 14%, respectively. The antileukemic activity against the L1210 model in mice was considered to be significant (Bevizin et al., 2003).
The purified compound clitocine, mentioned above, was also shown to have strong antitumor activity, with IC50 values ranging from 20.5 to 42 nm against murine 3LL and L1210, and from 185 to 578 nm in the human cancer cell lines DU145, K-562, MCF7, and U251. The authors suggest that the anti-tumor mechanism of clitocine may be due to apoptosis induction (Fortin et al., 2006).
Antibacterial activity
The mycelia and culture filtrate of L. inversa was shown to have antibiotic activity against the pathogenic bacteria Bacillus cereus and Staphylococcus aureus (Coletto et al., 1995).
Antiviral activity
In a study on the antiviral activity of 121 Homobasidiomycetes species, a crude extract from L. inversa showed the highest antiviral activity against the RNA viruses tested (poliovirus and VSV), and showed low cytotoxicity against the established Vero cell line (Amoros et al., 1997). These result corroborate an earlier study (Autrou et al., 1994) which revealed antiviral activity against HSV-1 and HSV-2, poliovirus and VSV.
Links
Photo and description at California Fungi
References
Amoros M, Boustie J, Py M-L, Hervé V, Robin V, Girre L.
Antiviral activity of homobasidiomycetes: Evaluation of 121 basidiomycetes extracts on four viruses.
Int J Pharmacog. 1997 35:255–60.
Autrou I, Amoros M., Boustie J, Girre L.
In vitro study of antiviral activity of Macromycetes.
Plantes Medicinales et Phytotherapie. 1994 26(4):347-55.
Bezivin C, Lohezic F, Sauleau P, Amoros M, Boustie J.
Cytotoxic activity of Tricholomatales determined with murine and human cancer cell lines.
Pharm Biol. 2002 40(3):196-9.
Bezivin C, Delcros JG, Fortin H, Amoros M, Boustie J.
Toxicity and antitumor activity of a crude extract from Lepista inversa (Scop.:Fr.) Pat. (Agaricomycetideae): A preliminary study.
Int J Med Mush. 2003 5(1):25-30.
Bigelow HE, Smith AH.
The status of Lepista-a new section of Clitocybe.
Brittonia. 1969 21(2):144-77.
Boustie J, Rapior S, Fortin H, Tomasi S, Bessiere JM.
Chemotaxonomic interest of volatile components in Lepista inversa and Lepista flaccida distinction
Cryptogamie Mycologie. 2005 26(1):27-35.
Coletto B, Ausilia M, Chiari P.
[Antibiotic activity in Basidiomycetes. IX. Antibiotic activity of mycelia and cultural filtrates.] Italian
Allionia (Turin). 1995 33(0):75-9.
Fortin H, Tomasi S, Delcros JG, Bansard JY, Boustie J.
In vivo antitumor activity of clitocine, an exocyclic amino nucleoside isolated from Lepista inversa.
Chem MedChem. 2006 1(2):189-96.
Kubo I, Kamikawa T.
Clitocine, a new insecticidal nucleoside from the mushroom Clitocybe inversa – isolation, structure and synthesis.
Abs Pap Amer Chem Soc. 1988 195:115-AGRO Part 1.
Kubo I, Kim M..
Clitocine, a new insecticidal nucleoside from the mushroom Clitocybe inversa.
Tetra Lett. 1986 27(36):4277-80.

Lee CH, Daanen JF, Jiang M, Yu H, Kohlhaas KL, Alexander K, Jarvis MF, Kowaluk EL, Bhagwat SS.
Synthesis and biological evaluation of clitocine analogues as adenosine kinase inhibitors.
Bioorg Med Chem Lett. 2001 11(18):2419-22.

Moss RJ, Petrie CR, Meyer RB Jr, Nord LD, Willis RC, Smith RA, Larson SB, Kini GD, Robins RK.
Synthesis, intramolecular hydrogen bonding, and biochemical studies of clitocine, a naturally occurring exocyclic amino nucleoside.
J Med Chem. 1988 31(4):786-90.

Saviuc PF, Danel VC, Moreau PA, Claustre AM, Ducluzeau R, Carpentier PH.
[Acute erythermalgia: look for mushrooms!]
Rev Med Interne. 2002 23(4):394-9. French.
Varaprasad CVNS, Habib Q, An HY, Hong Z.
Solid-phase synthesis of 5′-deoxy-5′-amino-clitocine analogues.
Nucleosides Nucleotides & Nucleic Acids. 2006 25(1):61-72.

Vetter J.
Data on arsenic and cadmium contents of some common mushrooms.
Toxicon. 1994 32(1):11-5.