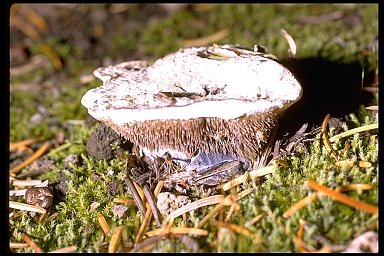 Classification
Kingdom Fungi
Phylum Basidiomycota
Class Basidiomycetes
Order Thelephorales
Family Bankeraceae
Genus Hydnellum
Synonyms
Calodon suaveolens (Scop.) P. Karst.
Hydnum boreale Banker
Hydnum pullum Fr.
Hydnum suaveolens Scop.
Phaeodon suaveolens (Scop.) J. Schröt.
Sarcodon gravis Coker
Common name
Wohlriechender Korkstacheling (German)
Description
Cap: Funnel-shaped, up to 15 cm in diameter; plane when mature; surface uneven; margin thick; white and somewhat woolly, later becoming grayish-brown.
Flesh: Tough, fibrous, discoloring when bruised or cut.
Teeth: up to 0.8 cm; white at first, but soon becoming dark brown basally and gray at tips.
Stem: 3-5 cm long, relatively thick (1-2.5 cm), white at top, shading to bluish-black at base, mycelium blue-violet color, surface tomentose.
Spines: 2-5 mm long, decurrent, pallid, buff to deep brown.
Spore print: Brown.
Spores: Brown,  irregular in shape, tuberculate; 3-3.5 x 4-6µ.
Odor: Strong, sweet, like anise.
Edibility: Inedible.
Habitat: Grows on the ground (often in moss) under coniferous trees, in summer and fall.
Distribution: North America, Europe.
The terphenyl quinone, thelephoric acid was detected in Hydnellum suavolens, as well as various other members of the genus Hydnellum (Sullivan et al., 1967). This fungal pigment, used as a dye for silks and wools, is often used as a defining characteristic of the Thelephoraceae and Bankeraceae.
Coumarin and anisaldehyde seem to contribute to the fragrant anise aroma of H. suaveolens (Wood et al., 1988)
Fractionation of methanol extracts of the fruit bodies Hydnellum suaveolens resulted in isolation of two new p-terphenyl derivatives named hydnellins A and B as well as sarcodonin δ (previously identified in Sarcodon scabrosus) (Hashimoto et al., 2006).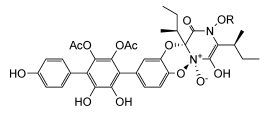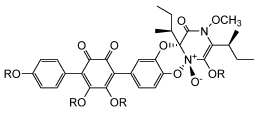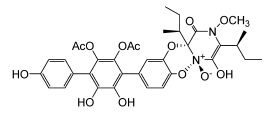 Figure 1. Antioxidant terphenyls from Hydnellum suaveolins. (a) Hydnellin A (R=H) (b) Hydnellin B (R=H) (c) Sarcodonin δ.
The DPPH˙ free-radical scavenging assay was used to assess the antioxidant activity of hydnellin A and sarcodonin δ. Compared to the α-tocopherol standard (IC50=22.8 µM), Hydnellin A and sarcodonin δ showed moderate antioxidant activity with IC50 values of 29.1 and 25.0µM, respectively.

Web
More photos available in the Stridvall fungi gallery.
References
Hashimoto T, Quang DN, Kuratsune M, Asakawa Y.
Hydnellins A and B, nitrogen-containing terphenyls from the mushrooms Hydnellum suaveolens and Hydnellum geogerirum.
Chem & Pharm Bull. 2006 54(6):912-4.
Sullivan G, Brady LR, Tyler, VE.
Occurrence and distribution of terphenylquinones in Hydnellum species
Lloydia. 1967 30(1):84-90.
Wood WF, Deshazer DA, Largent DL.
The identity and metabolic-fate of volatiles responsible for the odor of Hydnellum suaveolens.
Mycologia. 1988 80(2):252-5.