The wooly gomphus, Gomphus floccosus (Schwein.) Singer.
Classification
Kingdom Fungi
Phylum Basidiomycota
Class Basidiomycetes
Order Phallales
Family Gomphaceae
Genus Gomphus

Synonyms
Cantharellus canadensis Klotzsch ex Berk.
  Ann. Mag. nat. Hist., Ser. 1 3: 380 (1839)
Cantharellus floccosus Schwein.
  Trans. Am. phil. Soc., Ser. 2 4(2): 153 (1832)
Cantharellus princeps Berk. & M.A. Curtis
  Ann. Mag. nat. Hist., Ser. 3 4(22): 293 (1859)
Chanterel floccosus (Schwein.) Murrill
  N. Amer. Fl. (New York) 9(3): 168 (1910)
Craterellus canadensis (Klotzsch ex Berk.) Sacc.
  in Berkeley, Syll. fung. (Abellini) 6: 519 (1888)
Gomphus canadensis (Klotzsch ex Berk.) Corner
  Ann. Bot. Mem. 2: 116 (1966)
Merulius floccosus (Schwein.) Kuntze
  Revis. gen. pl. (Leipzig) 2: 862 (1891)
Merulius princeps (Berk. & M.A. Curtis) Kuntze
  Revis. gen. pl. (Leipzig) 2: 862 (1891)
Nevrophyllum floccosum (Schwein.) R. Heim
  Revue Mycol., Paris 19: 51 (1954)
Trombetta canadensis (Klotzsch ex Berk.) Kuntze
  Revis. gen. pl. (Leipzig) 2: 873 (1891)
Turbinellus floccosus (Schwein.) Earle
  Bulletin of the New York Botanical Garden 5: 407 (1909) [1906]
Common names
Shaggy, scaly, or woolly chanterelle
Woolly gomphus
Description
Fruiting body: 5-15 cm diameter; initially cylindrical with a sunken center, in maturity deeply depressed; cyathiform or infundibuliform; surface dry, covered with flattened, then erect and even recurved, relatively small scales, buff, yellowish to pale orange scales usually darker; flesh fibrous white; margin often undulate.
Hymenium: decurrent, made of narrow, low, blunt ridges and wrinkles that form to give rise to irregular, anastomose veins; yellow to cream.
Stem: not distinct from the hymenium, whole fruiting body stands 8-20 cm tall, width 1-3 cm at base; buff-colored, hollow from the deep trumpet-shaped pileus.
Odor and taste: mild.
Spore print: pale orange-yellow.
Spores: ellipsoid, minutely wrinkled, entire, hyaline, nonamyloid, thick-walled, 11.5-14.5 x 7-8 µm (Bigelow, 1978).
Habitat: solitary or caespitose under conifers; mycorrhizal. Fruits in summer and fall.
Edibility: edible to some, but consumption generally not advisable due to possibility of gastrointestinal upset. The compound norcaperatic acid has been isolated from this species (Miyata et al., 1966; Henry and Sullivan, 1969), and is known to cause similar delayed gastrointestinal effects (Carrano and Malone, 1967).
Apparently oblivious to these reports of toxic effects, the Khasi tribe of Northeast India regularly consume this species, which are found in abundance in the humid Meghalaya forest (Agrahar-Murugkar and Subbulakshmi, 2005). Whether this is possible due to reduced toxicity of a specific regional strain, or perhaps genetic resistance to the mushroom toxin is unclear. Bandala-Gonzalez and Trigos-Landa (1990) list this as an edible species.
Nutritional content
The macronutrient content (given in gram %) of G. floccosus is as follows:
Dry matter: 13.0
Protein: 21.2
Fat: 5.3
Fibre: 9.2
Ash: 8.0
The micronutrient profile includes
Ca: 1.37 g%
P: 0.34 g%
Fe: 22.3 mg%
Mn: 7.04 mg%
Cu: 3.48 mg%
Zn: 13.0 mg%
Na: 0.14 mg%
K: 18.7 mg%
Mg: 136 mg%
Se: negligible
Vitamin C: 25.8 mg%
Finally, for those brave (or foolish) enough to eat them, the wooly gomphus has an impressive repertoire of essential amino acids (given as µg of amino acid/100g mushroom, dry weight basis): His 12.0, Thr 17.7, Arg 13.9, Val 10.5, Met 57.2, Phe 0.2, Iso 5.0, Leu 22.7, Lys 14.3. All nutritional data is from Agrahar-Murugkar and Subbulakshmi, 2005.
Bioactive compounds
This species contains the polyol mannitol (Henry and Sullivan, 1969; Dominguez 1981), an interesting compound which has seen several uses.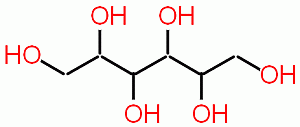 Bandala-Gonzalez and Trigos-Landa, in their 1990 study on mushroom species from the Cofre de Perote region (Veracruz, Mexico) report that this species tested positive for alkaloids.
Medicinal properties
Antifungal activity
In a search for antifungal components from 32 mushroom species, various extracts from G. floccosus were shown to have antiyeast and antifungal activity. Additionally, the ethanol extract showed an antifungal activity against Microsporum gypseum with a MIC of 1,000 µg/ml (Min et al., 1995). Recently, antifungal compounds known as oxylipins have been isolated and identified from the ethyl acetate fraction (Cantrell et al., 2008). The antifungal activity of the bioactive fatty acids (shown and named below) was tested against a variety of plant pathogens, including Colletotrichum fragariae, C. gloeosporioides, C. acutatum, Botrytis cinerea, Fusarium oxysporum, Phomopsis obscurans, and Phomopsis viticola. In some cases, the antifungal activity was comparable to the well-known fungicide captan.



Antitumor effects
Polysaccharides extracted from the mycelial culture of G. floccosus and administered intraperitoneally into white mice at a dosage of 300 mg/kg inhibited the growth of Sarcoma 180 and Ehrlich solid cancers by 100% and 90%, respectively(Ohtsuka et al., 1973).
Web
References
Agrahar-Murugkar D, Subbulakshmi G.
Nutritional value of edible wild mushrooms collected from the Khasi hills of Meghalaya.
Food Chem. 2005 89(4):599-603.
Bandala-Gonzalez E, Trigos-Landa A.
Determination of alkaloids in some mushroom species from the Cofre de Perote region, Veracruz, Mexico.
[Determinacion de alcaloides en algunas especies de hongos de la region del Cofre de Perote, Veracruz, Mexico.]
Micologia Neotropical Aplicada. 1990 3:41-7.
Bigelow HE.
The cantharelloid fungi of New England and adjacent areas.
Mycologia. 1978 70(4):707-56.
Cantrell CL, Case BP, Mena EE, Kniffin TM, Duke SO, Wedge DE.
Isolation and identification of antifungal fatty acids from the basidiomycete Gomphus floccosus.
J Agric Food Chem. 2008 56(13):5062-8.

Carrano RA, Malone MH.
Pharmacologic study of norcaperatic and agaricic acids.
J Pharm Sci. 1967 56:1611–4.
Abstract
Dominguez XA, Guzman G, Davalos L, Guajardo TE.
Preliminary chemical study of 8 macroscopic fungi.
ReV Latinoam Quim. 1981 12:48–49.
Henry ED, Sullivan G.
Phytochemical evaluation of some cantharelloid fungi.
J Pharm Sci. 1969 58(12):1497-1500.

Homola RH.
Cantharelloid Fungi of Maine.
Maine Naturalist. 1993 1(2):5-12.
Jarvis MC, Miller AM, Sheahan J, Ploetz K, Ploetz J, Watson RR, Ruiz MP, Villapan CAP, Alvarado JG, Ramirez AL, Orr B.
Edible wild mushrooms of the Cofre de Perote region, Veracruz, Mexico: An ethnomycological study of common names and uses.
Econ Bot. 2004 58:S111-S115.
Min TJ, Kim EM, Lee SJ, Bae KG.
Studies on the screening and development of antibiotics in the mushroom: The screening of antifungal components in Basidiomycetes (I).
Korean J Mycol. 1995 23(1):14-27.
Miyata JT, Tyler VE, Brady LR, Malone MH.
The occurrence of norcaperatic acid in Cantharellus floccosus.
Lloydia. 1966 29:43–49.
Montoya A, Hernández-Totomoch O, Estrada-Torres A, Kong A, Caballero J.
Traditional knowledge about mushrooms in a Nahua community in the state of Tlaxcala, México.
Mycologia. 2003 95(5):793-806.
Ohtsuka S, Ueno S, Yoshikumi C, Hirose F, Ohmura Y, Wada T, Fujii T, Takahashi E.
Polysaccharides having an anticarcinogenic effect and a method of producing them from species of Basidiomycetes.
UK Patent 1331513, 26 September 1973.
Petersen RH.
Notes on cantharelloid fungi. Part 3 Gomphus canadensis.
J Elisha Mitchell Sci Soc. 1971 87(2):53-55.
Verma RN, Singh SM, Singh TGB, Bilgrami KS.
Gomphus flocculus – A new record for India.
Curr Sci. 1989 58(24):1370-1.