Galerina clavata (Velen.) Kühner showing its translucently striate, hygrophanous cap and long, slender stem.
Synonyms
Galera clavata (Velenovský) J.E. Lange
  Fl. Agaric. Danic. 4: 40 (1939)
Galera fragilis var. clavata Velen.
  České Houby 3: 548 (1921)
Galerina heterocystis sensu auct. eur.
  fide Checklist of Basidiomycota of Great Britain and Ireland (2005)
Common names
Groot mosklokje (Dutch)
Entferntblättriger (German)

Description
Cap: 5-30 mm diameter, convex with faint umbo becoming broadly convex with shallow depression at center; color orange, brown at center and over striations to pale yellow-brown over the margin; moist, translucently striate, hygrophanous, whitish veil remnants at margin fugacious.
Gills: adnate to emarginate, subdistant, ochraceous-brown, edges subfimbriate and concolorous.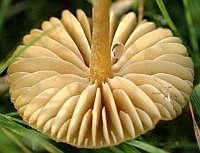 Stem: 20-70 mm tall x 0.5-2 mm diameter, cylindrical, equal or slightly enlarged at base; pale yellow brown (like margin of cap), densely covered with minute white hairs, scattered fibrillose at base, disappearing with maturity; context concolorous with cap, thin in cap and stem.
Spores: ellipsoid, suprahilar depression always distinctive, yellow-brown, marbled or minutely warted to coarsely warted, nonamyloid, 12-14 x 5-7 µm.
Odor and taste: not distinctive.
Edibility: inedible. Furthermore, certain members of this genera are known to contain the deadly toxins α– and β-amanitin, which can cause severe liver failure (Enjalbert et al., 2004).
Habitat: solitary or in small groups in moss, especially after heavy rain; usually associated with conifers and alders; summer and autumn; rare.
Description adapted and modified from Horak and Miller (1991) and Jordan (2004) pg. 282.
Medicinal properties
Antitumor effects
Polysaccharides extracted from the mycelial culture of G. clavata and administered intraperitoneally into white mice at a dosage of 300 mg/kg inhibited the growth of Sarcoma 180 and Ehrlich solid cancers by 60% (Ohtsuka et al., 1973).
Links
There's a variety of photographs at Mushroom Observer, as well as some useful notes about the deprecated synonym Galerina heterocystis (Atk.) A. H. Smith, R. Singer.
References
Enjalbert F, Cassanas G, Rapior S, Renault C, Chaumont J-P.
Amatoxins in wood-rotting Galerina marginata.
Mycologia. 2004 96(4):720–9.
Horak E, Miller OK.
Phaegalera and galerina in arctic sub-arctic Alaska (USA) and the Yukon Territory.
Can J Bot. 1991 70(2):414-433.
Jordan M. (2004).
The Encyclopedia of Fungi of Britain and Europe.
Frances Lincoln Ltd. 384 pp.
Ohtsuka S, Ueno S, Yoshikumi C, Hirose F, Ohmura Y, Wada T, Fujii T, Takahashi E.
Polysaccharides having an anticarcinogenic effect and a method of producing them from species of Basidiomycetes.
UK Patent 1331513, 26 September 1973.