Cymatoderma elegans Jungh.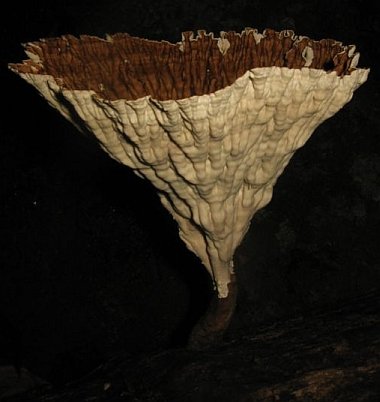 Classification
Kingdom Fungi
Phylum Basidiomycota
Class Basidiomycetes
Order Polyporales
Family Podoscyphaceae
Genus Cymatoderma

Synonyms
Beccariella insignis Ces.
Beccariella kingiana Massee
Cladoderris australica Berk.
Cladoderris elegans (Jungh.) Fr.
Cladoderris lamellata (Berk. & M.A. Curtis) Pat.
Cladoderris roccati Mattir., Annali Bot.
Cladoderris scrupulosa Lloyd
Cladoderris spongiosa Fr., Summa veg. Scand.
Cymatoderma elegans Jungh.
Cymatoderma elegans subsp. spongiosum (Fr.) Boidin
Cymatoderma elegans Jungh.
Cymatoderma elegans var. lamellatum (Berk. & M.A. Curtis) D.A. Reid
Cymatoderma lamellatum (Berk. & M.A. Curtis) D.A. Reid
Stereum caperatum var. lamellatum (Berk. & M.A. Curtis) Cooke
Stereum lamellatum (Berk. & M.A. Curtis) Wakef.
Thelephora lamellata Berk. & M.A. Curtis

Description
Cap: 8-12 cm diameter, infundibuloform, thin, rigid, coriaceous, covered with a thin cartilaginous skin, rugoso–plicate; zonate in various shades of brown, margin ragged.
Flesh: pallid to brownish, thin, leathery.
Stem: 5-10 cm high, 1-1.5 cm thick, brown, central, spongy like the cap.
Hymenium: smooth, with a cartilaginous appearance, following all the numerous folds and wrinkles of the cap; at first pale, then red-brown, like the cap.
Spores: 6-8 x 4-4.5 µm, ellipsoid, smooth, hyaline.
Spore print: white.
Habitat: solitary to small groups on rotten branches or logs. The toughness of the fruit bodies enables them to last for long times.
Medicinal properties
Anti-tumor effects
Polysaccharides extracted from the mycelial culture of C. elegans and administered intraperitoneally into white mice at a dosage of 300 mg/kg inhibited the growth of Sarcoma 180 and Ehrlich solid cancers by 80% and 70%, respectively (Ohtsuka et al., 1973).
References
Ohtsuka S, Ueno S, Yoshikumi C, Hirose F, Ohmura Y, Wada T, Fujii T, Takahashi E.
Polysaccharides having an anticarcinogenic effect and a method of producing them from species of Basidiomycetes.
UK Patent 1331513, 26 September 1973.
Parker RB.
Cymatoderma elegans var. lamellatum.
Australasian Mycologist. 1999 18(1):18-19.
PDF available here
Reid DA.
The genus Cymatoderma Jungh (Cladoderris).
Kew Bull. 1959  1958(3):518-30.
Young T, Young AM, Smith K. 2005
A Field Guide to the Fungi of Australia.
UNSW Press. 240 pp.
Google Books preview page.