The ceramic parchment fungus, Xylobolus frustulatus.
Synonyms
Auricularia frustulata (Pers.) Mérat
Stereum frustulatum (Pers.) Fr.
Stereum frustulosum Fr.
Thelephora frustulata Pers.
Thelephora sinuans Pers.
Xerocarpus frustulosus (Fr.) P. Karst.
Xylobolus frustulosus (Fr.) P. Karst.
Common name
Ceramic parchment
Description
Xyobolus frustulatus causes a white pocket rot in dead oak trees. This particular delignification, where the wood is completely removed in localized pockets, is also known as partridge rot, or honeycomb rot. The fruitbodies, which are usually 0.3-2 cm wide, occur as crowded, polygonal, woody plates that resemble broken pieces of tile. The fertile surface is pinkish-buff to whitish and the outer, sterile surface is blackish. Colonies of these fungi can cover large areas of wood.
Medicinal properties
Antimicrobial activity
Frustulosin, an antibiotic metabolite, was first identified by Nair and Anchel (1975). Later work (Nair and Anchel, 1977) led to a revised chemical structure for frustulosin, and the isolation of a related compound, frustulosinol (figure 1).
A)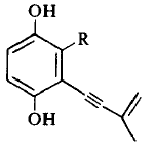 B)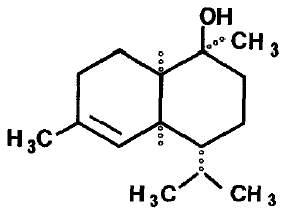 Figure 1. Antibiotic metabolites from Xylobolus frustulatus. (a) frustulosin (R=CHO) and frustulosinol (R=CH2OH) (b) (+)-torreyol.
Serial dilution tests demonstrated the antibacterial activity of frustulosin against Staphylococcus aureus, Bacillus mycoides and Bacillus subtilis at a concentration of 16 µg/ml. Weak antifungal activity against several unidentified fungi was also noted, as well as weak activity against Vibrio cholerae. Frustulosinol was reported to be active against S. aureus (at 16 µg/mL) and more weakly active (64-256 µg/ml) against Mycobacterium smegmatis (Nair and Anchel, 1977).
The sesquiterpene torreyol (also known as d-cadinol or 1S-(1α,4β,4αβ,8α)]-1,2,3,4,4a,7,8,8a-octahydro-1,6-dimethyl-4- (1-methylethyl)-1-naphthalenol), has also been identified in X. frustulatus (figure 1b). Interestingly, the chemical has been found in the male wings of the northern blue butterfly, Lycaeides argyrognomon, and may act as a insect pheromone (Lundgren and Bergström, 1975).


Links
References
Lundgren L, Bergström G.
Wing scents and scent-released phases in the courtship behavior of Lycaeides argyrognomon (Lepidoptera: Lycaenidae).
J Chem Ecol. 1975 (1)4:399-412.
Nair MSR, Anchel M.
Frustulosin, an antibiotic metabolite of Stereum fructulosum.
Tetra Lett. 1975 (31):2641-2.

Nair MSR, Anchel M.
Frustulosinol, an antibiotic metabolite of Stereum fructulosum – revised structure of frustulosin.
Phytochem. 1977 16(3): 390-2.
Vaneijk GW, Roeijmans HJ, Verwiel PEJ.
Isolation and identification of the sesquiterpenoid (+)-torreyol from Xylobolus frustulosus.
Exp Mycology 1984 8(3):273-5.