The white cheese polypore, Tyromyces chioneus.
Synonyms
Bjerkandera chionea (Fr.) P. Karst.
Boletus candidus Pers.
Leptoporus albellus (Peck) Bourdot & L. Maire
Leptoporus albellus subsp. chioneus (Fr.) Bourdot & Galzin
Leptoporus chioneus (Fr.) Quél.
Leptoporus lacteus f. albellus (Peck) Pilát
Polyporus albellus Peck
Polyporus chioneus Fr.
Polystictus chioneus (Fr.) Gillot & Lucand
Tyromyces albellus (Peck) Bondartsev & Singer
Ungularia chionea (Fr.) Lázaro Ibiza
Common name
White cheese polypore

Description
Cap: 2-7 x 1-12 x 0.5-3.0 cm, convex or plane, semicircular, surface white, finely tomentose to glabrous, drying yellowish or grayish.
Context: 2-15 mm thick, white, soft and watery when fresh, drying friable.
Tubes: 1.5-5 mm deep.
Pore surface: white to cream; pores 4-5 per mm, round to angular.
Spores: 3-5 x 1-2 μm, allantoid.
Spore print: white.
This fragrant polypore grows on decaying hardwoods or sometimes on decaying conifers, and causes a lignifying decay of the sapwood. Fruiting bodies are usually found between July-November.

Medicinal properties
Antiviral effects
Cadinane sesquiterpenes are a group of molecules with the cadalane carbon skeleton (shown below) chemically named 4-isopropyl-1,6-dimethyldecahydronaphthalene.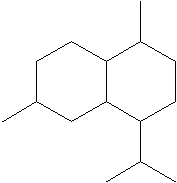 A novel cadinane sesquiterpene (named 4β,14-dihydroxy-6a,7β H-1(10)-cadinene) was isolated from cultures of Tyromyces chioneus. This molecule was shown to have significant anti-HIV-1 activity with EC50 =3.0 µg/mL (SI=25.4) (Liu et al., 2007).
Links
Google preview of Arora's Mushroom's Demystified has a description of the white cheese polypore.
References
Arora D.
Mushrooms Demystified. 2nd edition.  1986.
Ten Speed Press, Berkeley, California.
Gilbertson  RL, Ryvarden L. 1986-1988.
North American Polypores.
Fungiflora, Oslo.
Lincoff G. 1994.
National Audubon Society Field Guide to North American Mushrooms. 9th printing.
A.A. Knopf, New York.
Liu DZ, Wang F, Yang LM, Zheng YT, Liu JK.
A new cadinane sesquiterpene with significant anti-HIV-1 activity from the cultures of the basidiomycete Tyromyces chioneus.
J Antibiot. 2007 60(5):332-4.