Tricholoma portentosum (Fr.) Quel., the dingy agaric.
Synonyms
Agaricus portentosus Fr.
Syst. mycol. (Lundae) 1: 39 (1821)
Melanoleuca portentosa (Fr.) Murrill
N. Amer. Fl. (New York) 10(1): 23 (1914)
Common names
Dingy agaric
Glanzinde ridderzwam (Dutch)
Shimofurishimeji (Japanese)
Viiruvalmuska (Finnish)
Petit gris d'automne, Tricholome prétentieux, Bise d'automne, Verdoyant (French)
Grauer Ritterling, Russiggestreifter Ritterling, Schwarzgestreifter Ritterling (German)
Tricoloma portentoso (Italian)
Gråmusserong (Norwegian)
Ryadovka seraya (Russian)
Streckmusseron (Swedish)

Description
Cap: 5-11 cm diameter, convex to bell-shaped, expanding to plano-convex with or without low, broad umbo or with slight central depression, with involute then straight, finally sometimes reflexed, irregularly lobed margin; color dark grey-brown to blackish sepia at center, towards margin paler lead-grey, yellow-grey, greenish-yellow to almost white at outermost margin, often with slight purple tinge, viscid when moist, irregularly fibrillose upon drying.
Gills: moderately crowded, adnate–emarginate, up to 15 mm broad, often transvenose, white then in part turning lemon- to sulphur yellow with entire, concolorous or slightly darker edge.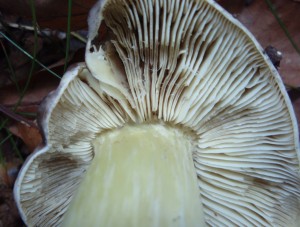 Stem: 3.5-12 tall x 1-3 cm thick, cylindrical, attenuated towards base or subclavate, often with yellow tinges in lower part when old, innately fibrillose, shining, often slightly pruinose at apex, coarsely fibrillose to subtomentose below.
Context: white in stipe, grayish in cap; farinaceous.
Smell: farinaceous after cutting.
Taste: mild, farinaceous.
Spores: 6.0-7.5 x 3.5-4.5 µm, ellipsoid to oblong.
Habitat: in groups, in coniferous or mixed forests.
Edibility: edible.
Description adapted from Van Crevel et al., 1988, pp. 116. This reference also explains that a number of variants have been described for this species, including:
Tricholoma portentosum var. boutevillei M. Bon – darker, squamulose cap, grows with Quercus and Fagus trees
Tricholoma portentosum var. lugdunense M. Bon – pale fruitbody
Tricholoma portentosum var. album Jacquet. & Bon – white fruitbody
Chemical and nutritional composition
The dietary fiber content was determined to be ~ 45% (dry weight); protein content was ~ 16% (dry weight); essential amino acids accounted for 61.8% total amino acid contents, with leucine, isoleucine and tryptophan being the limiting amino acids. The corrected amino acid scores (PDCAAS) of T. portentosum was low compared to casein, egg white and beef, but higher than that of many vegetable proteins. The fat content was 5.7% (dry weight), with oleic and linoleic acids accounting for more than 75% of total fatty acids (Diez and Alvarez, 2001).
In a separate study (Barros et al., 2007a), the values for various chemical and nutritional parameters are listed below (expressed as g/100 g fresh weight, or % by weight if you prefer) :
moisture – 93.05±0.51
total oil content – 0.38±0.02
crude protein – 2.12±0.08
ash – 0.81±0.03
carbohydrates – 3.64±0.16
Also, the energy value of 100 g (fresh weight) was 26.46±1.14 kcal.
Bioactive compounds
A number of sterols have been isolated and identified from the fruit bodies of T. portentosum (Yaoita et al., 1999):
5α,6α,8α,9α-diepoxy-(22E,24R)-ergost-22-ene-3β,7α-diol
5α,6α-epoxy-(22E,24R)-ergosta-8,22-diene-3β,7β-diol
5α,6α-epoxy-(22E,24R)-ergosta-8,22-diene-3b,7α-diol
5α,6α-epoxy-(22E,24R)-ergosta-8(14),22-diene-3β,7α-diol
(22E,24R)-ergosta-7,22-diene-3β,5α,6β,9α-tetrol
(22E,24R)-ergosta-7,22-diene-3β,5α,6α,9α-tetrol
(22E,24R)-ergosta-7,22-diene-3β,5α,6β-triol
(24S)-ergost-7-ene-3β,5a ,6β-triol (12)
3β,5α,9α-trihydroxy-(22E,24R)-ergosta-7,22-dien-6-one
3β,5α,9α,14α-tetrahydroxy-(22E,24R)-ergosta-7,22-dien-6-one
5α,8α-epidioxy-(22E,24R)-ergosta-6,22-dien-3β-ol

Medicinal properties
Antitumor effects
An extract of the fruit bodies inhibited the growth of Sarcoma 180 and Ehrlich solid cancers in mice by 70% and 60%, respectively (Ohtsuka et al., 1973).
Antioxidant/free radical scavenging activity
The total phenolic content of T. portentosum (in mg/g) was determined to be 6.57±0.31 in the cap, 3.91±0.17 in the stem, and 10.80±0.47 in the entire fruitbody. In the entire fruit body, this total included 0.40 mg/g flavonoids and 0.52 mg/g ascorbic acid (Barros et al., 2007a).
The antioxidant properties of T. portentosum have been evaluated (Ferreira et al., 2007a). Methanolic extracts from the entire mushroom, the cap and the stipe, separately, were screened for their reducing power and free radical scavenging capacity by chemical assays. The methanolic extract (at a concentration of 50 mg/ml) was shown to have excellent reducing power compared to the positive controls BHA and α-tocopherol. Specifically, expressed as an EC50 (mg/ml), the reducing power was 3.12, 3.69, and 4.82 for the entire fruit body, the cap, and the stem, respectively. In terms of free radical scavenging activity (FRSA), methanolic extracts from T. portentosum were only moderate in activity (22.9, 40.2 and >50% for the entire fruit body, the cap, and the stem, respectively).
Antibacterial/antifungal activity
A DMSO extract of T. portentosum was tested for its antibiotic activity against various bacteria. The extract was effective only against Gram+ bacteria (Bacillus cereus, B. subtilis) as well as the fungus Cryptococcus neoformans (causative agent of cryptococcosis) (Barros et al., 2007b).
Links
There's a photo gallery at BioPix.
References
Barros L, Baptista P, Correia DM, Casal S, Oliveira B, Ferreira ICFR.
Fatty acid and sugar compositions, and nutritional value of five wild edible mushrooms from Northeast Portugal.
Food Chem. 2007a 105(1):140-5.
Barros L, Calhelha RC, Vaz JA, Ferreira ICFR, Baptista P, Estevinho LM.
Antimicrobial activity and bioactive compounds of Portuguese wild edible mushrooms methanolic extracts.
Euro Food Res Technol. 2007b 225(2):151-6.
Diez VA, Alvarez A.
Compositional and nutritional studies on two wild edible mushrooms from northwest Spain.
Food Chem. 2001 75(4):417-22.
Ferreira ICFR, Baptista P, Vilas-Boas M, Barros L.
Free-radical scavenging capacity and reducing power of wild edible mushrooms from northeast Portugal: Individual cap and stipe activity.
Food Chem. 2007 100(4):1511-6.
Karosene SA.
Vitamin content in hymenomycetous fungi part 6. Thiamine and riboflavin in the fruiting bodies of Tricholoma portentosum.
Lietuvos TSR Mokslu Akademijos Darbai Serija C Biologijos Mokslai. 1975 3:147-54.
Ohtsuka S, Ueno S, Yoshikumi C, Hirose F, Ohmura Y, Wada T, Fujii T, Takahashi E.
Polysaccharides having an anticarcinogenic effect and a method of producing them from species of Basidiomycetes.
UK Patent 1331513, 26 September 1973.
Pourrat H, Regerat F, Carnat AP.
Study of the oil extracted from fruit bodies of Tricholoma portentosum.
Annales Pharmaceutiques Francaises. 1976 34(11-1):453-6.
Regerat F, Pourrat H, Pourrat A.
Ergosterol and portensterol occurrence in mycelial cultures of Tricholoma portentosum and Rhodopaxillus nudus.
Annales Pharmaceutiques Francaises. 1976 34(9-10):383-5.

Regerat F, Pourrat H.
New sterol isolation portensterol from fruitbodies of Tricholoma portentosum, Rhodopaxillus nudus and Clitocybe nebularis.
Annales Pharmaceutiques Francaises. 1976 34(7/8):323-8.

Van Crevel R, Bas C, van Os J. (1988).
Flora Agaricina Neerlandica: Critical monographs on families of agarics and boleti occurring in the Netherlands. Vol 4. (Bas C, TH Kuyper, ME Noordeloos, EC Vellinga, Eds.).
Taylor and Francis: Rotterdam.
Yaoita Y, Endo M, Tani Y, Machida K, Amemiya K, Furumura K, Kikuchi M.
Studies on the constituents of mushrooms, part VI – Sterol constituents from seven mushrooms.
Chem Pharm Bull. 1999 47(6):847-51.